It wasn't that long ago when the real estate industry operated on ink, paper and handshakes. Renters had to physically meet up with landlords to sign documents, and a deal couldn't be closed without meeting in person. Looking at rental apartments used to mean physically going to see rental apartments.
Today, 90 per cent of renters search for their apartments online and over 60 per cent of those searches are conducted on mobile devices. Consumers now are self-sufficient, a term Google refers to as ZMOT, or the "Zero Moment of Truth", meaning that shopping is no longer about physically going to a store, just as renting an apartment no longer requires physically meeting with the landlord. Needless to say, the real estate industry has gone digital and disruptive technologies are bringing about rapid change.
Evolution of Digital Search & Rental Properties
Combine a thriving Canadian economy that's enjoying a particularly strong tech sector with a record number of immigrants and all-time low vacancy rates, and the result is a very competitive rental market. At the forefront of the competition is technological advancements that have shortened the time required to find rental apartments and close deals.
Renters can now get in direct contact with verified landlords, allowing them to find and secure in-demand apartment rentals faster than ever before. In theory while it's never been easier to find a rental apartment, the market has never been more competitive.
It's clear that technology is a driving force behind the real estate market, and RentSeeker.ca is bringing industry leading innovation to the rental sector, while revolutionizing the search experience for Canadian renters across the country.
Putting Renters First
Technology has put power in the hands of the renter, both physically and metaphorically. Physically, renters have more powerful search tools than ever before, all in the palm of their hands. In a matter of minutes, renters can search for apartments for rent in Toronto and elsewhere by quickly setting parameters to narrow down properties by location, price, and other optional amenities.
RentSeeker.ca continues to roll-out new search features on their website to reflect current trends in the digital real estate marketplace, with additional focus on the expansion of mobile search use amongst millennials entering the rental market. Combine this demographic with an aging digital friendly population, and the network of renters searching for apartments online continues to grow year over year.
The transformation to digital-based rental listing platforms and websites continues to provide a huge increase and opportunities for online exposure and building brand awareness for landlords, and new opportunities are also growing for other real estate categories that traditionally didn't have as much digital representation, including:
Retirement Homes and Senior Living Properties
Student Housing
Short Term Rentals
Furnished Apartment Rentals
And Commercial Properties
The demand for these alternative rental markets has never been stronger, as demonstrated by the incredible popularity of Airbnb. As many smaller cities across the country continue to grow and support more multi-family, student housing, retirement homes and commercial properties, real estate marketing solutions for an all-age Canadian demographic is also growing, providing continued growth in real estate marketing platforms across the country with the increase in market size and competition.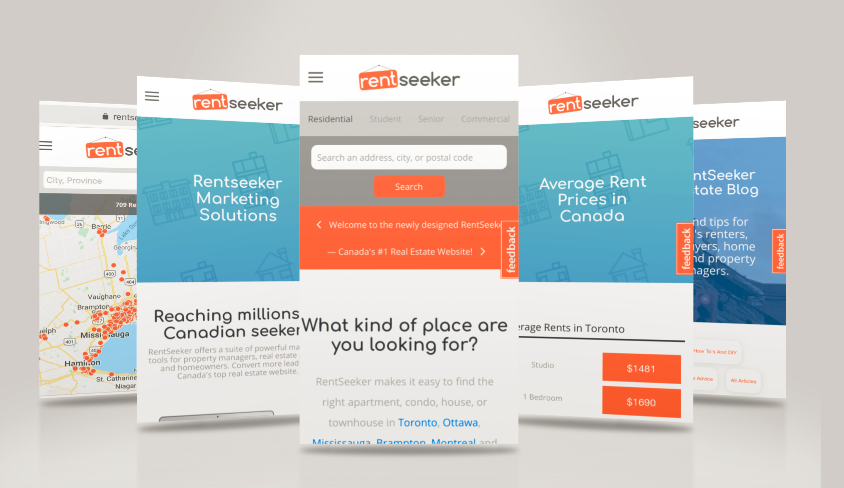 Utilizing Current and New Digital Platforms

Awareness and utilization of currently popular and new websites, apps, and platforms can sometimes be a challenge for real estate owners, property management firms and landlords who are trying to keep up with the ever-evolving world of digital innovation.
With new search features and available average rent prices in Toronto and other cities across Canada, which are updated in real-time, combined with the integration of Facebook Marketplace – RentSeeker.ca offers expanded new opportunities for landlords to increase exposure and directly target millions of qualified and informed renters daily.
Facebook's Marketplace has been extremely successful and brings together a huge community of online users. An aging population of digital friendly renters are entering the rental market and this trend continues to support a broader transition towards a fully digital rental marketplace. Facebook continues to generate massive revenues and is the most popular social media platform for non-millennials. The ability to quickly share apartment listings on your Timeline and in Messenger is a very powerful tool and is a great way to advertise and promote available apartment rentals across Canada.
Technology Delivers Security: Improved Confirmation Verification
A longstanding problem with the rental industry has been fraud. Many renters across the country have been taken advantage of, and the same can be said for landlords who can share horror stories of problematic tenants. In fact, Global News has a search tag just for stories about rental scams occurring on more popular classifieds.
To combat this issue, RentSeeker.ca recently launched a new trust tool called Verified Listings across its new platform and website. The newly launched feature is designed to increase authenticity and add an additional layer of security for its community of renters and landlords across Canada. The new feature had been in beta testing for a few months, and after receiving positive feedback from users, RentSeeker.ca has now made the new tool a permanent feature in its listing process.
Many of Canada's largest real estate owners, property management firms and real estate investment trusts ("REITS") list their rental properties on RentSeeker.ca and this new trust tool will provide renters with another layer of security by providing them with the validation and security of knowing they are renting from a trusted source.
RentSeeker.ca continues to lead the market as one of Canada's largest, most visited, and most trusted apartment finders, offering the latest features and starting new trends. The company continue to develop and launch additional features and services to help renters make informed and responsible decisions throughout the apartment search experience. After close to 10 years of continued growth in their user base, they continue to expand their website and platform, and plan to keep offering new features and services geared to both renters and landlords providing a best in class user experience.
About RentSeeker.ca
RentSeeker.ca is a privately-owned real estate listing platform with thousands of rental listings across Canada and millions of users utilizing the platform every year. As an award-winning technology and marketing company servicing the real estate industry, RentSeeker.ca has become a leading Canadian web and technology company.