KurtzDesign was tasked to transform an underused billiard room into a new lounge space at a Vancouver private club. The result is a dramatic and intimate space for members to enjoy during the day for casual meetings and at night as a wine bar.
"The client loves it and the lounge has been well received from the membership," says interior designer Jennifer Kurtz. "As a designer, there is nothing better than to see a space that you have designed, full of people enjoying a coffee, a cocktail or a glass of wine."
The lounge features a stunning wall of custom designed temperature-controlled wine lockers, cozy armchair groupings, billiard tables, and a well-appointed bar with food service.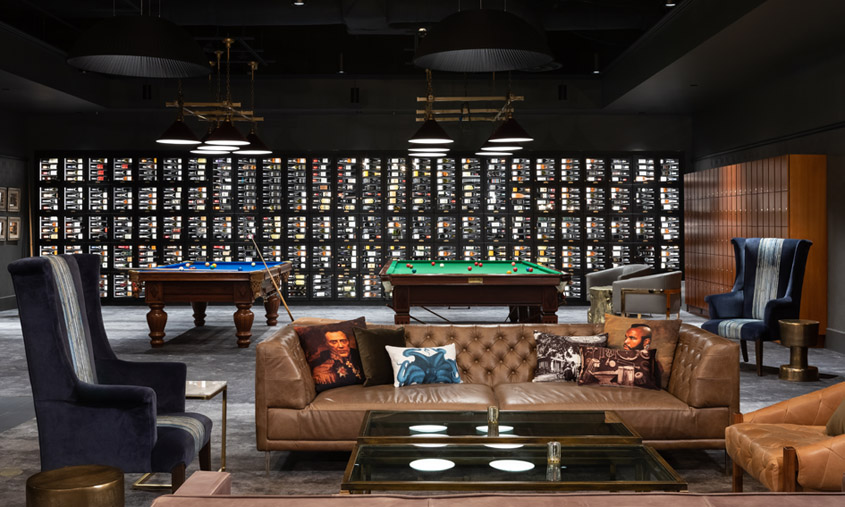 A combination of furniture styles and types maximize flexibility and offer a variety of settings. Strategic features, rich materiality and clever details provide visual interest and eclectic elegance throughout the large open space. The layering of light, pattern and texture was key to achieving a sense of intimacy.
"Because this room is so separate from the rest of the club, which spans three floors, it made sense to make this room really different from any other area to create a hidden gem," says Kurtz. "There are a lot of things going on in this space, but there is cohesiveness to it and a strong layout."
Working with a very tight budget, the design had to be executed strategically so that existing elements could be modified in inexpensive ways. Lighting, which was critical to the project, was value engineered in order to make the budget work.
"It was really important to get the lighting right for this space to be successful, and I am happy with how it turned out. It's moody – in a good way," says Kurtz. "The space itself is 3,350 square feet with no access to natural light so creating an intimate atmosphere in itself was a challenge."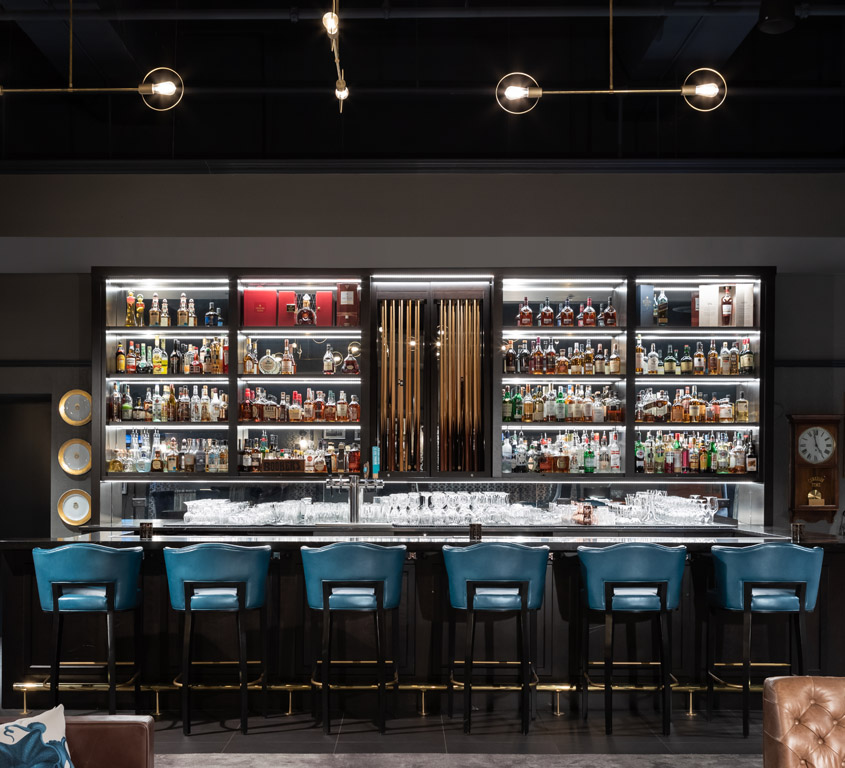 The bar anchors the space with integrated original pool cues paying homage to the room's previous life. The contemporary wine lockers are functional and impactful, producing a beautiful rhythm at the end of the room.
"There was considerable time spent detailing these lockers and working with mechanical contractors and millworkers etc," says Kurtz, adding sourcing the locks was surprisingly difficult.
The project earned double honours at the 2021 IDIBC Awards of Excellence, receiving an Award of Excellence and Interior Designer of the Year Award, awarded to the lead designer for outstanding achievement.
"It's a huge honour, especially given the work submitted by B.C.'s design community," said Kurtz. "Everyone executed the project to their very best."
Photographer: Ema Peter
Cheryl Mah is managing editor of Design Quarterly.