2019 is proving to be an exciting year of emerging lifestyle ideas for tile trends. Mindfulness of place seems to be a leading thought that creates new and exciting environments. The focus of attention to detail on smaller projects like powder rooms, laundry rooms and kitchen backsplashes are a way to really make a statement in a home.
Having a welcoming environment is a big desire – mixed patterns and textures you can feel and see visually have been popular to achieve this. 3D effects for tile and combining a matte finish with a polished, shiny finish also are on the rise.
We continue to see layering of different patterns that include many Art Deco influences. Florals, botanicals and all things green seem to be having their moment. Curves and organic movement are back. A mix of warm metals with hints of black is on the rise as well as any material with a handmade feel. Large format tiles are not going anywhere, the bigger the better. Our company is carrying porcelain slabs five foot by ten foot.
The trend towards edited and organized spaces is at an all-time high, all tied into wellness and how to have an impact on a person's long-term happiness. The goal is to create a calming and inspiring atmosphere with a hint of whimsy. White and grey looks continue to be strong. Marble looks with mixed patterns and muddy new pink and taupe undertones are at the height of fashion. A cloudy or muted look with movement is also emerging.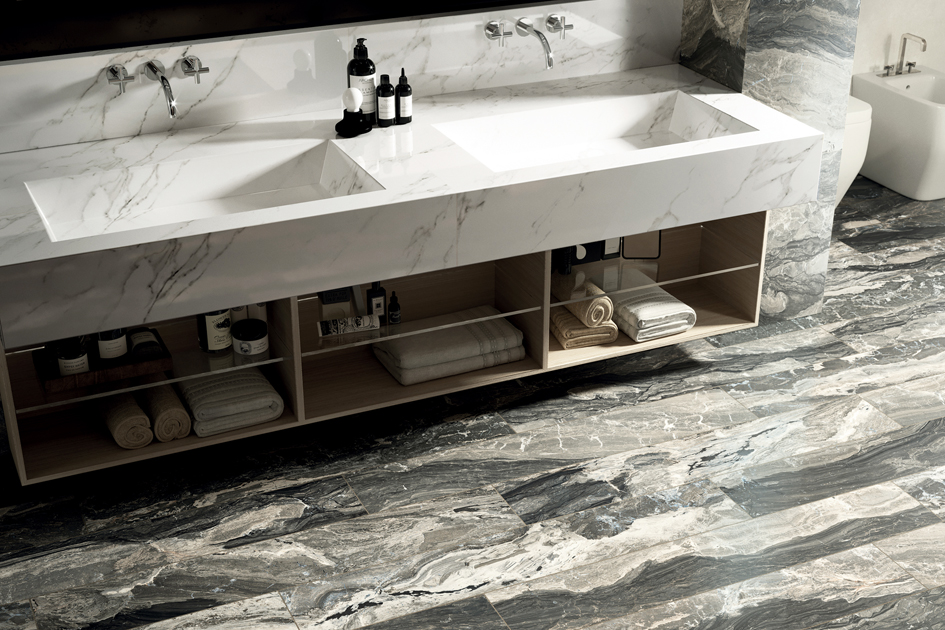 OUTDOOR SPACE
Interiors, melding with outdoor space to create an extended space and lifestyle environment, continue to be a leading focus on new home plans as well as renovations. With the increased offering of 2 cm thick porcelain tile pavers, you can use the same series or tile flowing indoors to out. The 2 cm thick pavers can be placed on pedestals, which allow for lighting, wiring and gas lines to run seamlessly underneath and are easy to access.
ENVIRONMENTLY FRIENDLY
Consumers want to be environmentally responsible and tile is a perfect choice. Porcelain tile does not retain any antigens, allergens or dust. The fact that porcelain does not host mold or mildew is a big factor in outdoor patio use. Decreasing waste and using products that have longevity make sense. Material that optimizes air quality is a high priority.
Tile has no VOC's (Volatile Organic Compounds) which can be harmful to animals and humans over a long time of exposure. Over the next decade there will likely be more changes in the housing industry than ever before to regulate issues like VOCs. Also, by the year 2030 one in four Canadians will be over the age of 65 – designers and home builders are going to have to rise to the challenge of accommodating this aging population.
ACCESSIBILITY
We are seeing an increase in barrier free showers and bathrooms. Tile can run the entire bathroom with no barriers and using a line drain water can be sloped to this long drain. Wheelchairs or other aided equipment easily can move back and forth. Tiling entire walls in bathrooms and kitchens is a trend for practicality as well as a way for kitchen designs to have less cabinetry on upper walls and can really personalize a space and be easy to clean.
Porcelain tile is nonporous and water resistant, therefore it does not require sealing (note that the grout still requires sealant). With its durability and ease of cleaning maintenance (simple vacuum, broom and water) porcelain is a responsible choice.
HEATED FLOORS
Heated floors are another wonderful luxury that can be added to the tile experience. Cables running under the tile to create warmth can't be beat. Wi-Fi enabled thermostats are even available to remotely control floor heating through smartphones from anywhere!
Lorie Grant is director of A&D at Ames Tile & Stone. She has been in the design industry for more than 20 years. Ames is an exclusive dealer of the Diesel Living branded tile from Iris Ceramica with four exclusive lines that reflect the trend forward metals and industrial textures.