commercial mortgages
Canadian Property Management
Sophisticated borrowers and lenders will be able to negotiate commercial mortgages through unlicensed channels if proposed regulatory amendments are enacted in Ontario.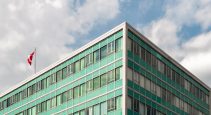 Canadian Property Management
COVID-19-related pressure for rent deferrals begets landlords' needs for loan concessions and heightened uncertainty for lenders.
Canadian Apartment Magazine
We spoke with Jeremy Wedgbury, Senior Vice President, Commercial Mortgages at First National, to share his insights from decades in construction lending.