lending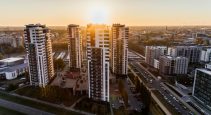 Canadian Apartment Magazine
We spoke with Jeremy Wedgbury of First National to discuss current industry challenges of construction lending and potential financial solutions.
Canadian Apartment Magazine
We spoke with Jeremy Wedgbury, Senior Vice President, Commercial Mortgages at First National, to share his insights from decades in construction lending.
CondoBusiness
The Bank of Canada has announced it is keeping its target overnight lending rate at 0.5 per cent, but lower interest rates are expected for the near future.