Bill Thompson
CondoBusiness
At least one industry executive thinks more needs to be done to address the harassment he says condo managers commonly confront while working in condo communities.
CondoBusiness
How do condo managers refer to the people who live in the communities they manage? As owners and tenants, or as residents?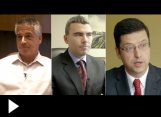 CondoBusiness
This video report addresses the need to revise the Condominium Act, 1998. Commentators: CCI's Bill Thompson, Gardiner Miller Arnold's Christopher Jaglowitz and Beredan Management & Consulting's Robert Buckler.