Equilibrium Consulting principal Robert Malczyk may be the Engineer of Record on Shigeru Ban's tall downtown Vancouver timber project, but he's more interested in the humble mid-rise. The mid-rise, not the attention seeking wood skyscraper, he argues, will ultimately transform the way we see wood-frame and mass-timber construction.
Top Photo: Located on a floodplain in the heart of Whistler's village, Audain Art Museum is elevated a full storey above the ground and crowned with a steeply sloped and panelized prefabricated wood roof, which uses laminated strand lumber for sheathing and parallel strand lumber for rafters.
"Combining energy efficiency and mass timber is my personal passion," says Malczyk. "Of course, it's nice to be involved in these [tall] buildings, but I think the biggest change we can influence is in mid-rises."
Shigeru Ban's Terrace House in Coal Harbour is one of a number of wood skyscrapers underway in the global race to the top. The first twelve stories will be constructed with traditional concrete and steel, while the remaining seven will feature exterior wood elements and floor plates cut from timber. The plan is for all of the wood to be sourced locally.
According to Malczyk, mid-rise buildings— anywhere between five and twelve storeys—built from readily available B.C. wood products are incredibly energy efficient, and will put taller wood construction firmly within the mainstream. North American developers are realizing this, and in many cases, the combined use of light-woodframe and mass-timber construction can offer economic advantages over traditional steel and concrete.
It's not only cheaper, but prefabricated mass timber means less debris and noise, which makes it less likely to disturb nearby residents. In North America, we already have the technology to build a mid-rise in the space of a week, says Malczyk. "Developers are doing it now for very economical buildings, not the high end," he says. "It's more of a base market with mass timber, which is huge progress."
His founding partner at Equilibrium, Eric Karsh, concurs. For the last couple of years, the push for residential and office mid-rises has gained momentum, with dozens of B.C. buildings in the design, permitting, and building stages—largely because the development industry is on board, says Karsh.
"A few years ago, we were only doing demonstration projects. Now we are doing developer-driven projects. They didn't want to be the first to do it, because issues needed to be resolved. I think we've crossed that barrier."
Beyond mid-rise and tall timber towers, the award-winning firm takes on projects around the world—everything from creative small-budget renovations to public institutions and internationally recognized landmarks. This includes B.C.-based projects such as the Wood Innovation and Design Centre in Prince George, the University of British Columbia's (UBC) Earth Sciences Building, and Whistler's Audain Art Museum, as well as international projects such as the University of Massachusetts Design Building and the WoodTek headquarters in Taiwan, which is that country's first cross-laminated timber building.
Malczyk and Karsh head up their own distinct projects, but regularly collaborate and consult with each other. Malczyk is working on several developments with Boston-based architect Tom Chung, principal at Leers Weinzapfel Associates. And Karsh often works with Vancouver-based architect Michael Green, who shares his ardour for timber construction and design. Karsh and Green collaborated on a book, The Case for Tall Wood Buildings, in which they present a new way of designing and building timber panel and glue-laminated timber towers up to thirty storeys high.
Karsh says that when writing the book, they had planned the case for twelve storeys, but after Green saw an ancient temple in Japan at that height he came back and said they should aim for twenty storeys. They came up with a model, and found it worked so well that Karsh suggested they go even higher. Green mentioned the potential for a thirty-storey wood building at a public talk, which, to their surprise, got covered by the press. Suddenly, they were committed to a thirty-storey case study.
"That was a challenge technically and psychologically. It was not something I could wrap my head around easily. Once we got into it, it became evident that it could work, and now, twelve storeys doesn't seem so high anymore," says Karsh. "There is a psychological barrier" when talking about building height, he says. "When they first built concrete high-rise buildings in Chicago, people were crossing the street to get away—they thought those buildings would collapse."
The busting of psychological barriers is one reason for the race to build higher with wood, as well as the publicity and marketing value that it gives the designer and developer, says Karsh. But those barriers are vanishing, with the groundswell of other design and engineer firms working in wood.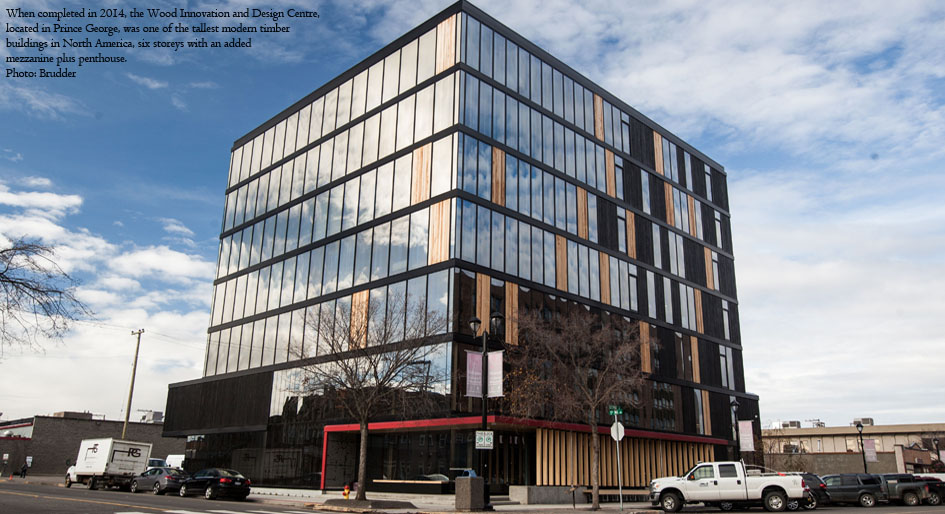 It can take decades to change the standard way that the construction industry works, but it is slowly changing, says Malczyk. He cites his own Kitsilano home as an example: when it was built several years ago it was a challenge, because its Passive House construction didn't fit with the conventional building standards at the time.
Malczyk is passionate about Passive House, which is well suited to mass-timber and wood-frame construction. Many consider the Passive House standard to be the most rigorous voluntary energy-based certification in the design and construction industry. His firm collaborated with Hemsworth Architecture on the BC Passive House Factory in Pemberton, just north of Whistler. Another Passive House project nearby, and one of more personal pride, is his own Rainbow Prefab Duplex constructed in Whistler in 2011. It is the first home in B.C. to be certified by the Passivhaus Institut in Darmstadt, Germany. It took four days to build and it's so energy efficient, Malczyk says he doesn't have to turn on the heat until mid-December. That's a way of living that any homeowner would get behind.
For both Malczyk and Karsh, mass timber is no longer perceived as the exception but is on its way to becoming the rule. There is already a growing awareness among developers of multi-family residential buildings who see the economic advantage. Karsh says although it may look like slow going, in the grand scheme of engineering history, the transformation has been faster than we think. Considering the formidable task of training and spreading awareness among industry professionals, fulfilling peer-reviewed site-specific safety requirements, and sourcing supplies, it's coming together relatively quickly.
"I do think it is happening quite fast, when you consider what is involved in a transition of this kind," he says. "People get impatient and ask, 'Why is this not becoming popular faster?' I think it is already there."
This article is an excerpt from Naturally Wood, a collection showcasing more than 65 unique wood projects and tells British Columbia's impressive story of cutting-edge wood products, technology, architecture, and design. Download Naturally Wood digital copy here. Naturally Wood is also available in print.