When wall-to-wall broadloom flourished in the 1970s and '80s, high-rise residential properties experienced little to no impact noise complaints resulting from flooring.
But as hardwood flooring emerged in the marketplace, so did the increase in calls to property managers about noisy neighbours upstairs—walking around, dropping items and moving furniture.
Even with all the recent technological advancements, noise complaints remain a top issue facing residential buildings today.
It's fair to say some common sense needs to be considered. Let's be honest; when stacking people above one another, up to 70 stories, the possibility of hearing sounds coming from the unit above is not far-fetched. Then there is the issue of what can be noisy to one person, may not be to another individual. Noise is certainly subjective.
Perhaps legislation needs to be strengthened when it comes to the Ontario Building Code. Currently, builders in Ontario do not have to meet a requirement, only a recommendation of IIC 55. IIC stands for "Impact Insulation Class." It is a test conducted in a laboratory in a controlled environment. It measures the degree of soundproofing of the impact noise of a floor/ceiling assembly.
FIIC stands for "Field Impact Insulation Class." This test is conducted in the field, and the rating offers a more realistic representation opposed to a laboratory IIC test. It is carried out in buildings and holds the same principles. The higher the FIIC, the better acoustic performance is achieved.
Will an acoustic membrane eliminate all noise complaints? No. But you may want to review your renovation agreement. Condo boards and managers who take a closer look at their renovation agreement will find they can often do much better to minimize future noise complaints.
Renovation agreement review
Renovation agreements act as a preventative measure against owners and contractors looking to skimp on the acoustic membrane required to be installed under flooring. This document, which is often overlooked, is a direct measure in deterring noise and vibration transfer between residential suites.
Suspended ceilings are one factor to consider. Sometimes called dropped ceilings, suspended ceilings function as a second ceiling that hangs below the original or structural one. This type of system can improve acoustics in a room by adding in more absorptive materials, such as foam panels, acoustic insulation and a double layer of drywall. Most high-rise residential properties in Toronto, however, do not have a dropped ceiling assembly. They are typically built of eight-inch concrete slabs alone.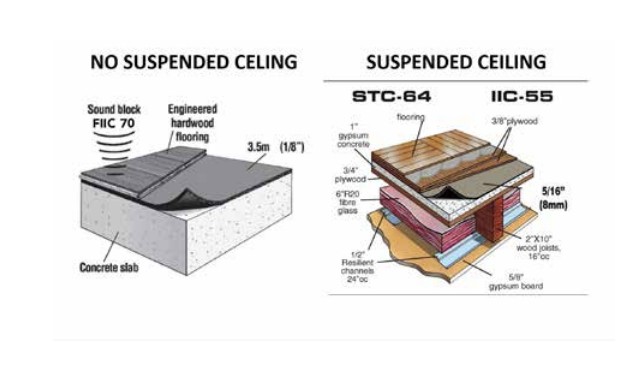 A case study was conducted in July 2020. The purpose was to research the acoustic properties of underlayment sold at major big box stores compared to an accredited flooring specialist who distributes a variety of acoustic underlayments. It was determined the products sold by the big box stores were all tested with dropped ceiling assemblies, while the flooring specialist opted to distribute only those products tested without dropped ceilings and specifically made for high-rise condos.
Boards and managers often need a little assistance in this area as they are not acoustic or flooring specialists. To demonstrate compliance, there are three items they should look at.
First, confirm the property's floor-ceiling assembly. Do the units have dropped ceilings? Second, update the renovation agreement to comply with the building's floor-ceiling assembly. Lastly, request the products testing documents and proof of purchase for your file. This will eliminate the bait and switch of any type of inferior products.
Managers do not have the time to physically inspect every renovation taking place to ensure that correct products are being installed. Their role often goes beyond the call of duty; at times they are called to wear more hats than the entire Toronto Blue Jays organization. Many properties do not have a concierge or security at the main entrance; therefore, owners and contractors can conduct entire renovations without notifying managers of the work or products being installed. This is an ongoing problem.
Here is a summarized template that can be altered to meet any property's building design. It was created specifically with a residential high-rise property in mind, with no dropped ceilings:
Where a hard surface floor finish such as hardwood, laminate or vinyl is to be installed in a suite as a replacement for carpeting or another hard surface, an owner shall ensure that a sound attenuation barrier is installed that will achieve an acoustical sound proof standard of a minimum Field Impact Isolation Class rating of FIIC 70.
A sample of the underlay and its spec sheet must be provided with this form prior to starting any renovations. The underlay must have the test documentation from the manufacturer that indicates that it was tested over an eight-inch concrete slab and with no suspended or dropped ceiling (FIIC 70 minimum).
Upon receiving approval, we require proof of purchase in the form of an invoice for our file.
This kind of approach will not only reduce noise complaints but will also improve a building's reputation and enhance the overall quality of living for everyone.
Steven Vasconcelos is the principal of The Floor Studio Inc. and an accredited NWFA Wood Floor Inspector who specializes in wood flooring and acoustical membranes. steve@thefloorstudio.ca, 416-533-2855.