British Columbia's cutting‐edge wood architecture and design are featured in the newly released book, Naturally Wood.
B.C.'s leadership in the wood building sector is progressive and inspiring. Naturally Wood  is packed with stories and insights from industry leaders, innovators and thinkers, captured in first-person and by a variety of B.C. writers.
This collection of perspectives and projects in the book underscores B.C. wood innovation and history in a tribute to one of our most important industries in B.C. It makes a cohesive and convincing argument that wood is a natural choice and a building material that can help provide solutions to our biggest challenges in the decades to come, including affordable housing and sustainable building systems.
"Wood is a limitless material in so many ways — renewable and with extraordinary expressive potential," says Darryl Condon, founder of HCMA Architecture + Design. "As British Columbians, it makes sense that we are drawn to building with wood and we've really embraced pushing the envelope with what you can do with wood."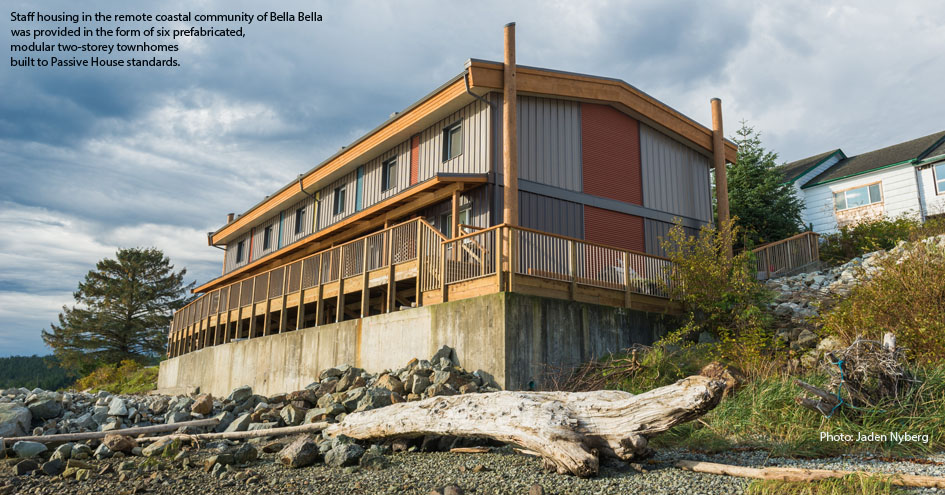 Along with its beauty, the sturdy and sustainable material is helping to address a range of housing needs through modular prefabricated wood and mass-timber construction, saving money and time, while boosting overall quality and performance. Vancouver Coastal Health chose modular prefabrication to overcome construction obstacles in building staff housing for the hospital in isolated Bella Bella. Even with access only by barge and plane, construction of Canada's first ever multi-unit Passive House was completed within seven months.
Wood is an important part of life for many British Columbians. The province is home to North America's largest producers of softwood forest products with more than 7,000 firms and 57,000 people working in the forest sector. A diverse population uses wood buildings on a daily basis at work, home and for leisure. B.C. is home to nearly 25 percent of the world's temperate rainforest, protected by some of the world's most stringent forest laws. The rugged, natural beauty contributes to a sense of place unique to British Columbians and has given rise to innovative wood products and architecture. In Prince George, the six-storey Wood Innovation and Design Centre features an open atrium, theatre and lab space. The building showcases the diversity of locally sourced products and species, as well as their aesthetics and functionality.
The enterprising B.C. wood industry has carved a reputation as a world leader in wood design and construction, employing advances in engineered wood and 3-D modelling to build taller and more efficiently. Changes to the national building code that allow the safe construction of taller wood buildings — doubling the allowable height from six to 12 storeys — are being proactively adopted by the province.
Products like mass timber are allowing for new, unprecedented possibilities in what wood can achieve, including impressively long spanning structures and strong, safe skyscrapers. One of those groundbreaking buildings is Brock Commons Tallwood House, a dormitory on Vancouver's University of British Columbia (UBC) campus. Standing 54 metres tall, it is one of the tallest hybrid mass timber buildings in the world. The 17-storey mass timber structure went up in just over nine weeks. The estimated environmental impact of its wood use is equivalent to taking 511 cars off the road for a year.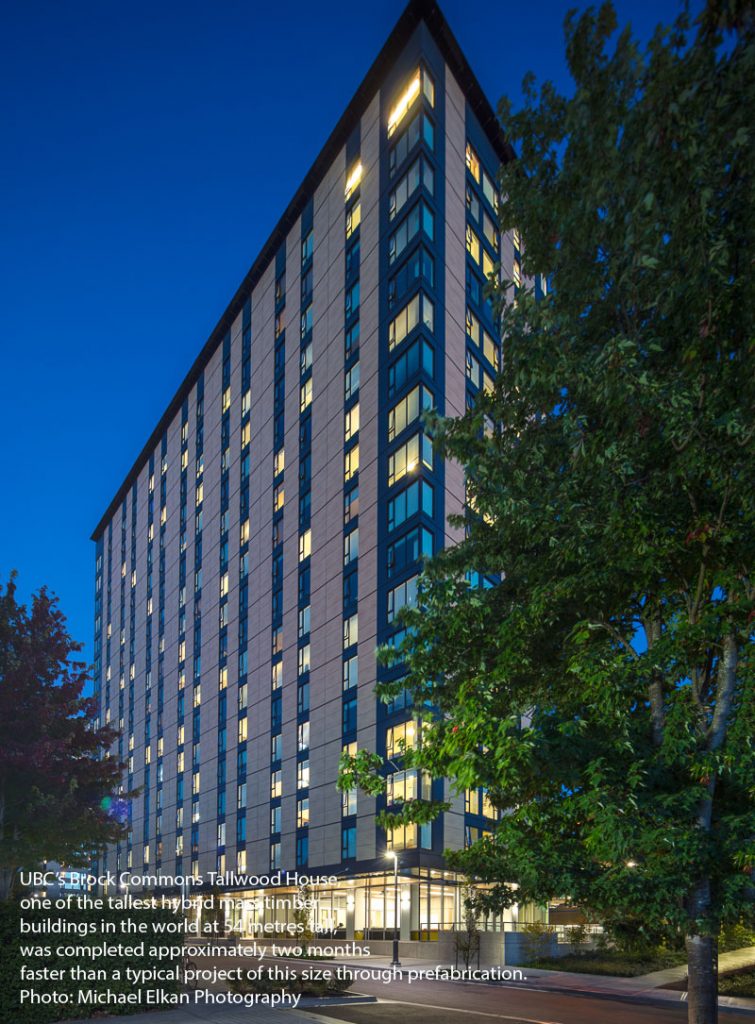 "Using wood is one of the early discussions we have with our clients, for every single project. The environment is being seriously damaged by us emitting carbon into it, and if we can build in wood then we reverse that process. We sequester carbon and build up a positive balance. So we are always looking at wood first — always," says Peter Busby, principal, Perkins + Will.
The book profiles some of the many innovative wood buildings found throughout the province. It is a useful resource for building and design professionals, real estate developers, contractors, government and civic decision makers, as well as just about anyone interested in architecture and design. It's a call to action for those who are curious about wood innovation, design and manufacturing to reach out to the province's growing community of forest and timber experts to learn how they can use wood in both structural and finishing applications.
Download the digital copy at naturallywood.com/NWBC. Naturally Wood is also available in print.