A new $200-million hotel-office-condo-multifamily development officially broke ground in downtown Montreal last week. Once it opens in 2020, it will be a smart city within a city, complete with its own mobile app.
The h-shaped HUMANITI Montreal project comes at a time when the skyline is full of cranes and rising towers. The city is experiencing somewhat of a renaissance in its 375th year; tourism is booming and several infrastructure projects are in the works, including the Old Port of Montreal revitalization.
Developers want the project to be something more than cookie-cutter, more human-centred. Cogir Real Estate has teamed up with the Fonds immobilier de solidarité FTQ, designer Lemay and manager Urgo Hotels Canada on the project, which will occupy the entire block bordered by Viger, De Bleury, De La Gauchetière and Hermine Streets.
Wellbeing and connectivity are central in this endeavor, with emphasis on the "sharing of societal values within a space of collective diversity." Three buildings will interconnect as distinct entities. Mixed-use plans include a 200-room hotel, more than 300 rental units and 150 condo units, 60,000 square feet of office space across five floors and 15,000 square feet of commercial space, with a grocery store.
Last month, the city unveiled its bold, 15-year strategic plan to attract more young people, seniors and families to the downtown core. Doing so means rejuvenating the area with more mixed-use developments, public spaces and parks, and also reflecting the times.
"Humaniti is not just a place to live and work; it's a place with a lot of common areas, with sustainability and wellness, where there is a community of sharing," says Cogir Chairman and CEO Mathieu Duguay. "It's part of the next generation of real estate; the experiences are based on the users much more than the concrete."
Community Smarts
The project is being called the city's first smart, vertical community, one that Duguay says isn't aiming for the "luxury level," but more "mid-up."
At the heart is a mobile app. The buildings won't just connect physically; the people in the buildings will interlock through the app, which is currently being designed by a local IT company.
"There will be about 1,500 people working or living there, and we believe the sense of community will be big," says Duguay, who says the technology will maximize efficiency and give people more access to one another.
Office occupants and home dwellers, for example, could request janitorial services from the hotel and food and beverages from the on-site restaurants. Users could reserve and pay for other services or access the hotel concierge who can recommend local events, entertainment and restaurants. Humaniti occupants will also be able to post to the community on the app, offering or inquiring about everything from dog-walking to yoga classes.
Users can also observe their energy consumption within a space and remotely control and monitor their heating and cooling systems, while human presence sensors will guide smart lighting.
Community Wellbeing
HUMANITI is designed to promote the wellbeing of those who inhabit its spaces. When doors open, particularly with the multifamily component, it will be the first WELL-certified project in Quebec, and the first multifamily LEED-certified building in Montreal. Developers are currently targeting WELL, which measures a space's impact on occupant's health by looking at seven factors: air, water, nourishment, light, fitness, comfort and mind.
Many features will reflect these concepts. For example, there will be physical installations on site for promoting activity, rooftops terraces with a pool and relaxation areas and restaurants with healthy menus.
Public transportation will be accessible, including five HUMANITI-branded electric vehicles and bikes, community-owned and shared between users.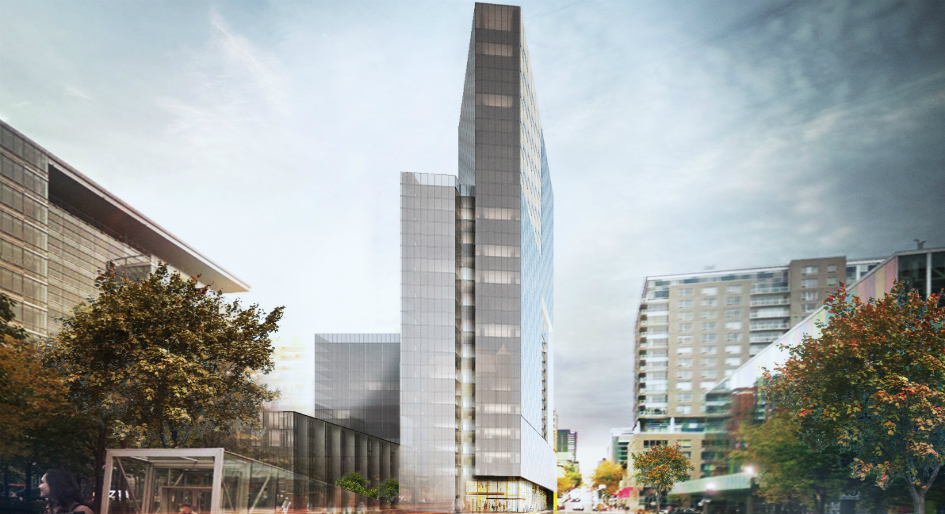 Community Hotel
What will be the first Marriot Autograph Collection hotel in Québec will overlook the Place Jean-Paul-Riopelle in the centre of Quartier international. Urgo Hotels Canada, which currently manages 20 hotels and resorts under the Marriot banner, will manage the four-star boutique property.
Once finished, HUMANITI Hotel Montréal will offer 193 rooms between the 10th and 18th floors, a 100-seat restaurant, a 60-80-seat lounge-bar, reception and meeting rooms with a capacity of 300 guests, a spa, a gym, an outdoor roof-top pool and access to the building's indoor parking.
"Each one of Marriott's Autograph Collection hotels is unique in terms of location, luxury, trendiness, design and personality," says Serge Primeau, vice-president, operations and development, Urgo Hotels Canada. "The HUMANITI project was very inspirational in this regard due to the value it offers and its local inspiration."
Community of Tomorrow
The HUMANITI team set their sights on similar projects in notable cities that have embraced mixed use and public spaces, New York being one. Silicon Valley in California also inspired developers with its sense of community.
They observed housing and sustainable developments and tried to identify what modern urban residents are looking for now. They realized "green, vertical, smart and human" is an imperative, no longer a luxury.
"We believe we're pushing the trend of mixed use to a whole new level," says Duguay. "We're shooting to be pretty large because we're an urban location, at a very good site between Old Montreal and the Quartier des Spectacles, right within the international business district – in the centre of a lot of fields of interest."
Rebecca Melnyk is online editor of Canadian Property Management @rebeccachirp