Each school year, the Université de Saint-Boniface in Winnipeg, Manitoba retrofits a few classrooms to create a more active learning environment. This summer, the university renovated an IT classroom to provide power and data capabilities to student desks as well as the instructor lectern. For IT classes, technology access was a must.
"We needed LAN and power connectivity for student computers, USB outlets for their laptops, as well as an effective wire management solution for the instructor's desk," says Robert Simard, director of facilities and security at the university. "Quite a bit of wiring goes into the professor's area. We were looking for a clean solution."
Solution
Space is at a premium at universities across Canada, so Simard and his project team are always mindful of cost and maximizing every square foot possible.
"We have changing needs as programs expand and we must be able to quickly and efficiently reorganize a classroom to accommodate different programs and change the purpose of the space," he says. "This might not always be a computer lab, so we want to implement features that are as flexible as possible to quickly and economically turn it into an office space if we choose."
As the team hunted for a wireway system that would give them the freedom to be flexible, they found an invisible solution, one that would eliminate the need for old power poles, core drilling and trenching and open up the space. They also required a system that was compliant with the Electrical Safety Code and fit their budget.
They ordered and installed Connectrac's ultra-low profile floor mounted wireway system into their classroom. The wireways were fitted under the student desks to provide power, LAN and USB capabilities for each table, which was then distributed to the students station via an under table wire management system. Subsequently, the instructor lecterns in each classroom received power and data access, ensuring the connections they needed.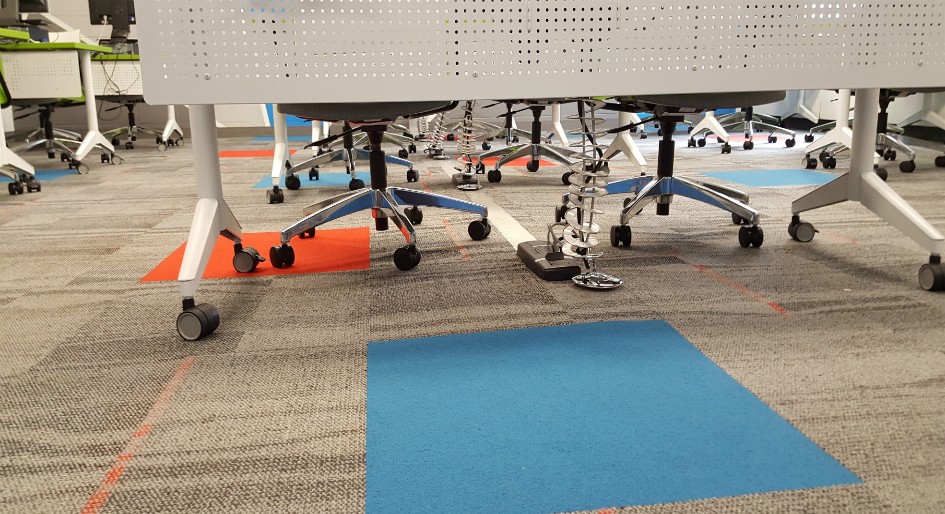 The wireway is flexible enough to be moved or reconfigured when future changes come to the classroom.
"The need for space changes quite frequently," says Simard. "With Connectrac, we know we can make different configurations if we need to."
The school year at Université de Saint-Boniface has started off smoothly across the campus and in the IT classroom, with Connectrac installations in store for future renovations.
"As long as they are accommodated, students won't typically notice the upgrades," adds Simard. "Sometimes, no feedback is good feedback, and to me, that is a positive message that the product is well accepted and doing its job."
For more information visit https://connectrac.com/