Niagara Falls, Ontario and Jasper, Alberta make a list of select global locales where property owners enjoy spinoff real estate value for proximity to celebrated attractions. The consumer credit broker, money.co.uk, includes the two Canadian entrants in a largely European and American field of rare real estate markets that border on iconic buildings/sites, renowned national parks and popular theme parks.
The resulting Lucrative Landmarks report ranks real estate markets in each of these scenarios, with Niagara Falls and Jasper slotted toward the back of the pack in their respective categories of 32 iconic buildings/sites and 20 most visited national parks. No Canadian markets are represented among the 11 surveyed theme parks.
"Our report has found that, globally, landmarks can be a fantastic selling point, but there are so many other things to consider," says Salman Haqqi, the author and a personal finance expert with money.co.uk, which offers online mortgage rate comparisons among its services. "It does depend on the landmark. Some homeowners will love being next to an iconic tourist attraction; however, others might find the pollution, traffic and footfall overwhelming."
Rankings are based on: average house prices in the surrounding postal code zone; average house prices within a 10- to 20-mile radius or, in the case of national parks, the next closest city/town; the gap between those two averages; property demand based on the regional population; and traffic and carbon dioxide (CO2) emission levels in the area.
Real estate ripple effects are considered strongest in the environs of Arc de Triomphe in Paris, Château de Chillon in Vaud, Switzerland and Buckingham Palace in London. Three-bedroom dwellings in the vicinity of these top-three iconic buildings/sites command average prices of CAD $9.3 million, CAD $5.6 million and CAD $9.4 million respectively. While the first and third ranked landmarks rest in two of Europe's most populous cities, Château de Chillon's setting on the shore of Lake Geneva translates into one of the best traffic and CO2 scores among the 32 iconic buildings/sites.
Completing the top 10 are: Palaces of Westminster, London, UK; Eiffel Tower, Paris, France; Times Square, New York, U.S.; Brandenburg Gate, Berlin, Germany; The Louvre, Paris, France; Sydney Opera House, Sydney, Australia; and Prague Castle, Prague, Czech Republic. Meanwhile, in the 11th spot, the U.S. Whitehouse stands out for the whopping 2,395 per cent differential in the average CAD $12 million price-tag for nearby three-bedroom dwellings versus the CAD $484,000 average in outlying Washington D.C. neighbourhoods.
Niagara Falls is slotted in 21st position, sandwiched between Scotland's Edinburgh Castle and New York's Statue of Liberty. Average house prices near the falls are pegged at about CAD $1.38 million or a 101 per cent premium over the CAD $688,000 average elsewhere in the city.
Proximity to the falls is something of a bargain in the overall context of the list, earning Niagara Falls 13th spot on the list of 15 landmark locations where average prices fall below 1 million UK pounds — at £799,000. The most affordable real estate surrounds the Pyramids in Cairo, Egypt, where the average three-bedroom home goes for about CAD $62,800 (£36,270), followed by homes near Mont Saint-Michel in Normandy, France, at CAD $300,400 (£173,660) and the Wieliczka Salt Mine in Krakow, Poland, at CAD $320,000 (£185,000).
On average, three-bedroom homes in the vicinity of the 32 iconic buildings/sites command prices that are 246 per cent higher than similar properties at a 10- to 20-mile distance. However, exceptionally wide gaps in a few cases skew that overall ratio.
In addition to the chart-topping premium for living near the Whitehouse, proximity to New York's Times Square exacts a 1,060 per cent toll with the average three-bedroom dwelling costing nearly CAD $7 million more than three-bedroom units elsewhere in the city. Premiums for living near the Acropolis in Athens, the Brandenburg Gate in Berlin or the Trevi Fountain in Rome range from 857 to 409 per cent.
In contrast, average housing prices bordering Edinburgh Castle, Italy's Leaning Tower of Pisa and the Roman Baths in Bath, UK, are actually lower than elsewhere in those surrounding cities. Notably, the Lucrative Landmarks report fingers traffic and pollution among the factors undermining prices near Edinburgh Castle.
Presumably for different reasons, housing near the 20 most visited national parks is less valuable than in the closest city in half the cases. Nevertheless, the spinoff enhanced value is so significant in the other 10 locales that it pulls the overall average up.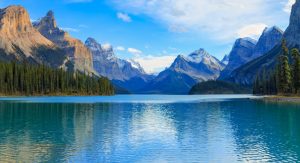 Despite its 16th ranking, Jasper is part of the latter group, with nearby housing prices averaging CAD $812,000 compared to CAD $169,000 in the closest city/town. This 381 per cent premium is one of the widest gaps recorded on the list.
Dolomiti Bellunesi in Belluno, Italy, tops the list for its real estate ripple effects. Housing in the vicinity carries an average price of CAD $2.14 million, equating to a 76 per cent premium over average prices in the nearest city. Two American national parks — Arches in Utah; and Glacier in Montana — are ranked second and third, with Vanoise in Mondane, France, and the Peak District of Derbyshire, UK, filling out the top five.
Two other national parks of the UK — Broads in Norwich and the Lake District of Cumbria — bracket Jasper. Average housing prices bordering the two parks are both lower than in Jasper or the closest UK city.