U.S. apartment market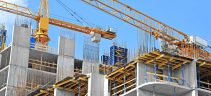 Canadian Apartment Magazine
Multi-residential development and transactions accounted for a significant share of U.S. real estate investment in 2015 during a year when many of the nation's large urban markets enjoyed declining vacancies and rising rents.
Canadian Apartment Magazine
U.S. housing starts were up significantly in June with building permits surging to a near eight-year high. Up 9.8 per cent from May to an annual pace of 1,174,000 units, multi-unit buildings were the driving force behind the increase in construction activity.