modular apartment
Canadian Apartment Magazine
Edmonton's first apartment block made entirely of shipping containers is opening this month at 95th Avenue and 163th Street. Known as Westgate Manor, the three-storey, 20-unit multifamily development will bring much needed affordable housing to the area.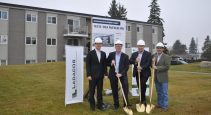 Canadian Apartment Magazine
Edmonton-based Step Ahead Properties Ltd. and Ladacor Advanced Modular Systems have launched construction on their new modular apartment, an affordable housing development at Westgate Manor in Glenwood.