Mary Van Buren
Construction Business
To prevent diversion of foreign steel products into Canada, the federal government is imposing provisional steel safeguards on imports of seven products.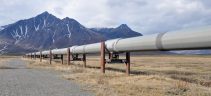 Construction Business
The Vancouver Regional Construction Association is appealing to all parties involved in the Trans Mountain project to come together to move it forward.
Construction Business
Mary Van Buren, a bilingual marketing, strategy and digital expert, is the new Canadian Construction Association (CCA) president.