John Horgan
Construction Business
The Government of B.C. is providing $67.6 million to build a new, 430-seat elementary school on Sheffield Avenue in Burke Mountain for Coquitlam students.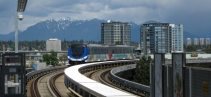 Construction Business
Prime Minister Justin Trudeau and B.C. Premier John Horgan, have confirmed more than $3 billion in federal and provincial funding for rapid transit.
Construction Business
Vancouver International Airport (YVR) broke ground on a number of capital construction projects, part of YVR's $9.1 billion multi-year expansion plans.