EV
CondoBusiness
A condo in Outremont, Montreal is the first building of its kind to be ready to host electric vehicles at every interior and exterior parking stall.
REMI Network
Vancouver is now one of the first cities in North America to adopt a 100 per cent EV-ready policy for all new multi-unit residential buildings.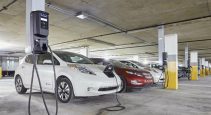 Canadian Property Management
The electric vehicle (EV) revolution is here; and with it, a demand for property stakeholders to accommodate a growing volume of plugged-in commuters.