CFAA
Canadian Apartment Magazine
On April 3rd, Ontario reduced the businesses it deems essential, meaning that more rental management services were ordered to close their doors by midnight, April 4th.
Canadian Apartment Magazine
As Canada's federal election inches closer, and hopeful candidates criss-cross the nation making bold declarations about future reform, affordable housing remains a hot-button issue for all.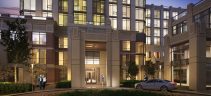 Canadian Apartment Magazine
Morguard's The Heathview, located in mid-town Toronto, has been recognized again for excellence in a purpose-built rental development, this time as co-winner of the New Development of the Year Award by the Canadian Federation of Apartments Association (CFAA).