Bob de Wit
Construction Business
The Homebuilders Association of Vancouver (HAVAN) announces Ron Rapp, formerly of Morningstar Homes, has been appointed interim CEO for a six months.
Construction Business
Greater Vancouver Home Builders' Association (GVHBA) is rebranding to Homebuilders Association Vancouver (HAVAN), complemented by a new brand identity.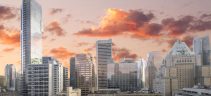 Construction Business
The Metro Vancouver regional district is set to increase sewer fees for new developments on May 1, 2018, raising concerns for industry.