Summer is the perfect time to deal with outdoor maintenance projects. Here are some tips from an expert on where to start.
What kind of first impression do you want your building to create? Having an attractive building exterior adds to the property value and can create an impression that may help determine how much you can request from a tenant. Now that we're well into the summer season, it's the perfect time to tackle any outdoor maintenance projects you may have been putting off. Your tenants (and bank account!) will thank you!
Mike Benteau, president of paint contractor Elite Trade Painting, explains where you should start.
Create a timeline
The first step is knowing how often you'll need to complete exterior maintenance. If the structure is:
Wood-based: maintain every five to 10 years
Metal- or concrete-based: maintain every 10 to 12 years
Newer buildings: maintain up to every 10 years
Older buildings: maintain every five to six years
If your building is wood-based, the frequency of maintenance can be higher depending on your building's location and what maintenance has been completed in the past. If your structure is metal or concrete, you can stand to wait longer as these materials are sturdier and can withstand a lot more abuse than other common building materials. However, no matter what your building is built from, don't wait too long.
"The reality is, if [a potential tenant] looks at your building and it looks terrible on the outside but nice inside, it still creates a bad first impression," says Benteau.
Although it's currently summer, new options in paint don't limit you as far as when you would like to tackle new projects and beautify the exterior of your building.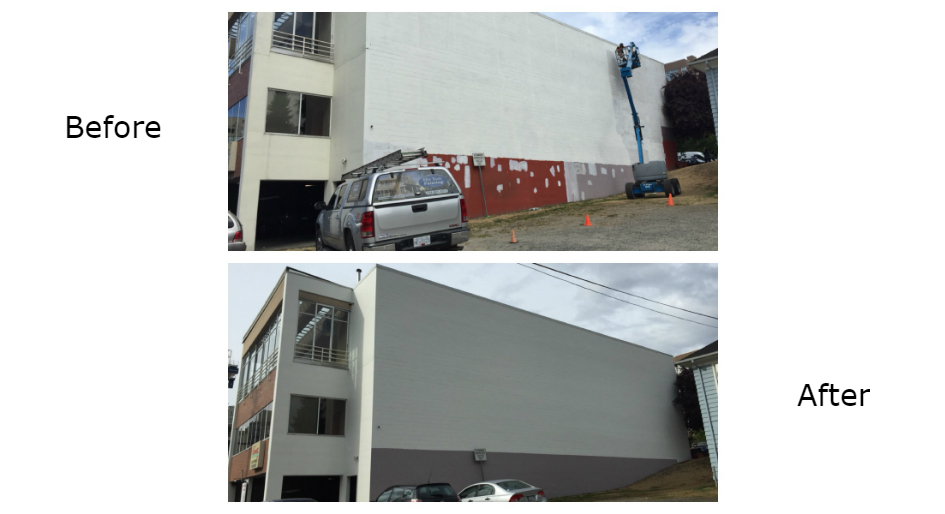 "Paint has changed in the last 15 years. We now have paint that's good to as low as four or five degrees Celsius. We're painting houses outside in a lot of regions in December. In most areas in Canada, you'll find that one of the best times to paint is September or October, because the temperatures are better, the structures are drier and obviously the workers perform better than in high heat," says Benteau. "Our company does tons of exteriors in September and October; it's probably one of our busiest times."
Managing your costs
"If you complete a regular maintenance program by making sure your building is painted and caulked property, you don't get the major repairs, like having to replace shingles or decks," says Benteau. "Only when people let things degrade by not protecting them do they end up having to replace them."
Benteau says it can cost up to 10 times as much to replace a poorly maintained part of your property than it does to maintain (depending on the part that requires replacement). He believes age is just a number when it comes to buildings.
"There are lots of 100-year-old buildings that have been properly maintained and have lasted," he says.
To help moderate the hit on your wallet, consider a timed approach to your maintenance strategy. "To even out costs, one side of the building should be done each year so they're not facing a huge bill every five years, making it easier to pay for it," says Benteau. He adds that this strategy allows an owner to anticipate when a large maintenance bill will be due, so they can plan out costs ahead of time.
Projects to tackle
"As with anything, sometimes the colour of the building becomes more of a problem than anything else and people want a fresh look or a change," says Benteau.
Painting the exterior of a building involves several steps: most buildings must be pressure washed to remove mould, dirt, grease and grime, and then any loose or peeling paint must be removed. The next step is very important: repairing the caulking along windows and trim to ensure no water is getting inside. Finally, it's time to prime and then paint.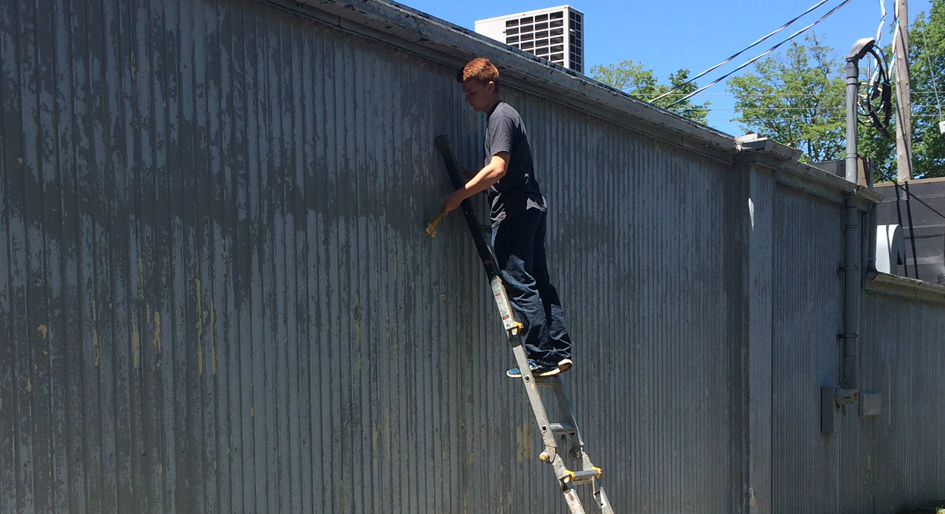 "If you skip one of those steps, you diminish the amount of time the building is going to last. If you don't pressure wash the building first, you're painting over surfaces paint doesn't adhere to, for example," says Benteau.
Other projects you may want to tackle during your summer maintenance may vary, depending on whether you are working on a small residential building or a large residential or commercial structure. Benteau finds that larger buildings are more concerned with maintaining doors, parkades and other high-traffic areas.
"A parkade probably gets painted every 20 years," says Benteau. "Doors and frames are probably painted every three to four years because if they're busy, they get beat up. A general rule of thumb for most people is that you should probably be doing some exterior maintenance every two to three years and there's always something to do for these large commercial buildings."
Finally, don't overlook your building's steps and decks, which are an extremely high-traffic area and must be maintained more often than any other part of your building.
"The reality is that there are no products out there that will hold up over long term. Steps and decks must be maintained every three years, maximum. There's not a paint product out there that will last any longer than that and if you don't maintain your decks, you're definitely replacing them, and that's certainly costlier to do," says Benteau. "Bottom line, instead of lasting five to 10 years, your maintenance is lasting two to three, or sometimes even less. It's not that much more expensive to do it right."
For more information, please contact Elite Trade Painting.