projects
Canadian Facility Management & Design
Industry trends point to a renewed focus on sustainable projects in development, both to the benefit of owner budgets and tenant comfort.
CondoBusiness
The City of Toronto's Chief Planner and Executive Director of the City Planning division, Jennifer Keesmaat, is departing her role effective September 29.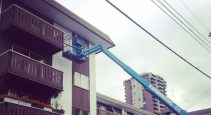 Canadian Property Management
Summer is the perfect time to deal with outdoor maintenance projects. Here are some tips from Elite Trade Painting's Mike Benteau on where to start.