As most financial institutions automate, Peoples Group has been steadfast in its belief that people matter and their desire to engage clients face-to-face. Unfortunately, those values weren't reflected in its head office in Vancouver. Space was fragmented, and there was unequal access to natural light, while limited meeting rooms, collaboration areas, and social areas led to a disconnected culture and workstyle. Engagement exercises showed a desire for increased socialization and balanced wellness, as well as the need to enhance connections, increase collaboration, and promote democracy.
For the Dialog Design team, the ideas of strength and stability became clear, and an overarching design concept emerged: the strength of a tree. Trees symbolize vitality, beauty, stability, and wisdom, and embody the deep roots of the company's culture.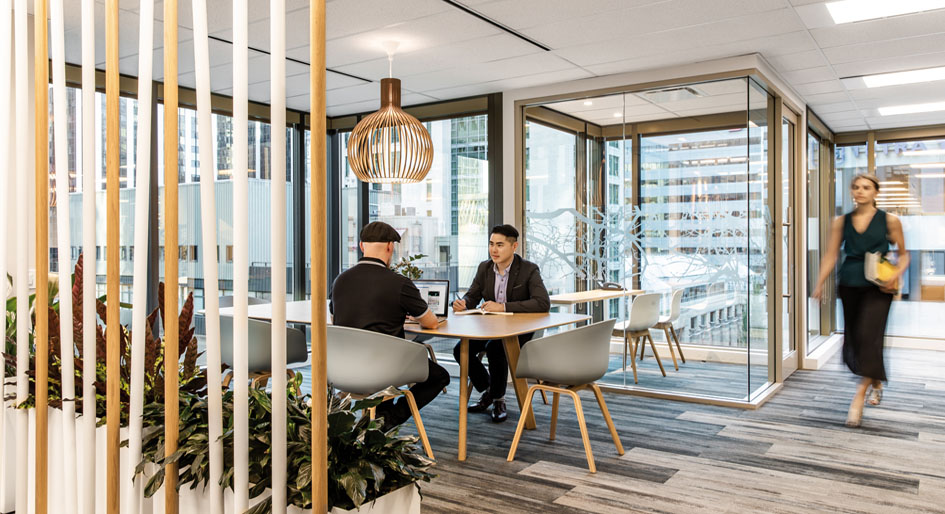 The team was fascinated by the experience of coming together under a tree, and brought it to life. The heart of a tree – the trunk and its roots – is represented in open spaces like the reception area. A large ceiling design that emulates a forest canopy connects these spaces. Office and meeting spaces reflect branches, as expressed through strong sightlines and accessibility. Centralized social hubs that increase cross-floor circulation and encourage community building are an extension of the trunk.
Sightlines, circulation paths, and city-view corridors – more branches expanding out – shape the horizontal planning approach. Open office areas are broken up by meeting, focus, and collaboration spaces, like clusters of leaves. The 'together-alone' strategy fosters relationships, as well as increasing communication and connection.
Utilizing building corners for group collaboration brings sunlight to teams and helps their ideas grow. A centralized kitchen and games room – like a hollow in the tree trunk – facilitate team get-togethers. These spaces acknowledge the positive influence the workplace can have on employees, clients, and the business, much as gathering under a tree can foster socialization and wellbeing.
Completed in 2019, the Peoples Group tenant improvement was a phased renovation over four floors. The successful transformation earned Dialog a 2020 IDC Value of Design Award of Merit in the category of Innovation in Workplace Design.