Bala Gnanam has joined the staff of the Building Owners and Managers Association (BOMA) of Canada as vice president, sustainability, advocacy and stakeholder relations. It's a new role, but with the ongoing purpose of championing climate action and building performance improvements in the commercial real estate sector, following more than a dozen years of work on the same front with BOMA Toronto.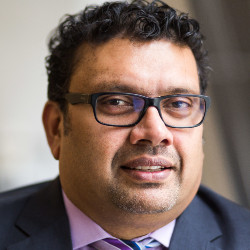 "As we enter a new era and launch significant new projects, Bala's leadership will help us drive BOMA Canada forward," says Benjamin Shinewald, president and chief executive officer of BOMA Canada. "Bala has been a trusted colleague and mentor. We've collaborated frequently and his counsel has always been generous, progressive and wise."
An engineer with Certified Energy Manager (CEM) and Certified Demand Side Manager (CDSM) designations from the Association of Energy Engineers, Gnanam sits on the board of Toronto's Clean Air Partnership and is a member of the Climate Reality Leadership Corps. He holds a Bachelor of Engineering from Ryerson University and Bachelor of Science in Mathematics from Dalhousie University. Earlier this year, he was named to the Independent Electricity System Operator's stakeholder advisory committee in Ontario.
"Bala has been a key member of the BOMA Toronto team and its successes, and his departure is bittersweet", says Susan Allen, president and chief executive officer of BOMA Toronto. "I am pleased that Bala is staying within the BOMA family and that he will continue to serve the broader BOMA-in-Canada community."