Anyone in the multifamily industry knows how crucial the lease-up period is for ensuring a building's long-term success. With these periods lasting longer in the era of COVID, apartment owners in some cities are attempting to mitigate their profit losses by temporarily using their empty units as short-term rentals. But this strategy isn't permitted everywhere, and it only leverages a building's most obvious asset—the apartment units. What about all those empty parking stalls?
Most multifamily buildings in lease-up have at least as many unused parking spaces as they do unused apartments. Finding creative ways to use them has never been easier, thanks to current trends and technology. The key is to know the zoning laws and restrictions for your area that may impact your approach.
Easy ways to profit from your parking
In simple terms, a lease-up period is the time between when a multifamily apartment community announces its launch until about six to twelve months after its official opening. With lead-up time, a lease-up period can last up to fifteen months, during which your occupancy is expected to reach above 90 per cent with residents paying rent at market rate. Building owners typically use the lease-up period to establish their property's brand and website, and to become a presence within the community. But it is often a period in which the building isn't performing to its full capacity and may even need to be run at a loss.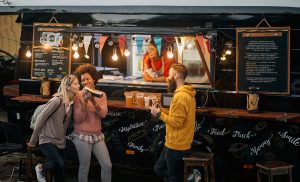 Yet, each empty parking spot represents an opportunity for the owner. Ideas for use include renting the spaces out to local restaurants for valet parking, curbside pickup, or even a specialty food truck. Retail stores may also rent out spaces to serve as designated parking for customers, or for a temporary "pop-up" location. And how about those entrepreneurs offering car-centric services like car washes and detailing, minor repairs and diagnostics? A location in a parking lot couldn't be more ideal.
All of these uses have the added benefit of creating a sense of community around your building. Those once-empty concrete spaces are now serving a purpose, bringing more foot traffic and interest to your property while giving residents a deeper attachment to their new home. Not only that, but visitors lured by an exciting pop-up might just fall in love with the location and inquire about living arrangements. Of course, all of this depends on zoning restrictions and neighbourhood regulations governing such amenities, but by finding good uses for parking, building owners can attract new renters and thus reduce the time spent leasing up to full capacity.
Smart parking: the simplest solution
While it is lovely to imagine your unused parking spaces serving as the site for hip pop-ups and tasty food truck eats, the most straightforward way to monetize those free spaces is by offering them up to non-tenant drivers. Building owners looking to unlock a new revenue stream to help keep a property solvent during the lease-up period may want to consider "smart parking" first.
Smart spaces are created when technologies like augmented reality, the internet of things (IoT), and mobile communications partner with data, analytics, and machine learning to create guided, next-level experiences of moving through a location. Smart parking applies this concept to the act of parking one's car using automated processes to make finding and reserving a spot easy and painless, and payment intuitive or even automatic. These principles (or at least the infrastructure to install them) should already be in place in any new construction, and they can vastly improve the ability of parking spots to generate income.
Smart parking lots can include digital signage to help people find their spots faster, the ability to reserve online, and navigation to make finding spots easier. By fitting your parking spaces with sensors to detect the presence or absence of cars, building owners can create an automated, efficient parking lot that will serve you well for your property's lifetime.
Choosing the correct application
Ultimately, turning a parking lot into a profit generator is as easy as choosing the right parking app to administer the process. By interfacing with the sensors, and using the data available from past driver behaviour, a parking app can help individuals reserve their spots, navigate to their empty space, and pay for their parking, all in one seamless interaction. These apps can even be flexible enough to adjust parking availability day by day as residents come and go. Choosing the right parking app can mean the difference between an expensive, high-maintenance headache and a minimum-friction source of unexpected income.
Even long after building lease-up is complete, the right parking plan paired with the right parking app can ensure any unused spaces remain reliable sources of revenue, sevring you and your building well for the long haul.
Jeremy Zuker is the co-founder of WhereiPark, a technology company that enables multifamily residential and commercial property owners to discover new revenue sources through innovative solutions that leverage unused parking spaces.