A heritage landmark built in 1910 by Bell Telephone Company remains a part of Kitchener, Ontario's storied past, and will soon transform into a mixed-use property, bringing 46,000 square feet of prime office space to the downtown core.
Once home to the Royal Canadian Legion Branch 50 and known as the birthplace of Kitchener blues because it hosted several greats from Buddy Guy to Koko Taylor, 48 Ontario Street North was left vacant for some time until the city bought it in 2001.
This month, the city approved the sale of the 14,000-square-foot red brick building to winning bidder Voisin Capital whose proposal aims to maintain and restore heritage features and boost the overall vitality of area.
In With the Old. In With the New
Developers are keen on preserving the front façade and the building's lobby and grand staircase, while restoring other key heritage features. The designated heritage site will require replacement of heating, ventilation, plumbing and electrical systems, including an elevator.
An existing parking lot will transform into a modern, light-filled addition, with two extra stories added to the property and 2000-square feet of ground-floor retail space. A two-storey glass lobby featuring a green living wall will offer access to the retail and an elevator serving the upper floors.
As it stands, there aren't many historic buildings left in Kitchener that can be redeveloped into the kind of office space many modern users are searching for.
"The options that exist in downtown Kitchener tend to be relatively small floorplates of 3,000 to 4,000 square feet, or larger floorplates in tall towers," notes Frank Voisin, president of Voisin Capital.
For companies entering the market or expanding there, low-rise buildings with street front presence and large floorplates in the 8000 to 12,000 square foot range are rare. Developers hope to almost double the existing floorplate at 48 Ontario and also add 36,000 square feet above grade, with the chance to add two more floors. Currently, not many buildings in downtown offer this kind of space.
"Of those buildings, the vast majority have already been redeveloped and leased to some of the best technology companies and professional services firms," he adds. "For the right user who doesn't just want to be lost in a large tower, needs the larger floorplates and wants street front presence, 48 Ontario is really the only game in town."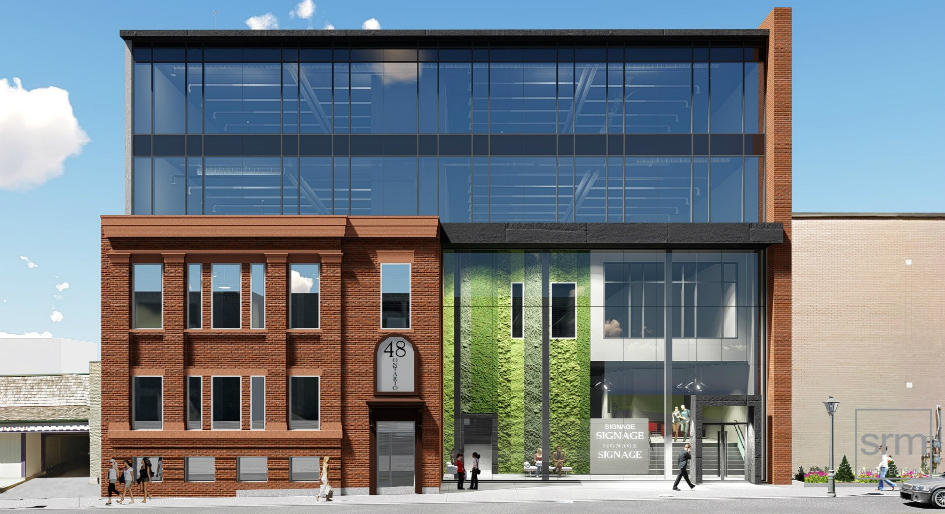 Attracting the Office Crowd
Construction on the estimated $12 million redevelopment is expected to start within a year. With dozens of amenities within walking distance—Centre in the Square, the Kitchener Market, the KW Symphony, THEMUSEUM, new restaurants—placing office space in the ground floor wasn't an option as it wouldn't really add to the vibrant street activity.
"Potential tenants going after the same talent as Google and other large companies situated nearby will be paying employees quite well," Voisin envisions. "There are going to be 300 people on Ontario Street who aren't currently there, who will want to go to restaurants after work or grab coffee on their break. Overall, it will benefit retailers by having high paid employees on that strip."
Modern elements outside of the building itself will bode well for less car-dependent tenants. The light-rail-transit (LRT), set to open in early 2018, is within 300 metres. The bus terminal is 200 metres away and the Duke and Ontario parkade across from the site has more than 450 parking spaces and indoor covered bike storage.
"The plan is to take advantage of the full opportunity of the site by using the existing parking lot and intensifying the property so it meets the needs of modern users who don't need parking," Voisin says. "Not every property in the core needs its own parking the way they did 50 years ago. This will be a perfect opportunity to eliminate it, intensify the site and bring more vibrancy to that area."
Storied Spaces
Kitchener has evolved over the past 15 years from a more desolate place to a vibrant, pedestrian-friendly community. Once faced with the harsh reality of job losses in the manufacturing sector, the city turned the cards by investing in new sectors like technology and digital media, closing streets for events to create a buzz and transforming empty buildings into valuable assets.
Now, investors see even more to come for the city. This is the fourth project Voisin Capital is undertaking in the core His company has already invested in the adaptive reuse of other historic properties there like 8 Queen, 41 King and Catalyst 137, an old tire warehouse that will serve as the world's largest technology accelerator focused on the Internet of Things.
As the city's revitalization plan continues to evolve the downtown core, it's subsequently impacting the office market and attracting global companies, like Deloitte, who are situating themselves near the city's Innovation District. Deloitte is working with Allied REIT to expand and renovate a former hide house for their local offices, in turn preserving Kitchener's industrial past.
"Downtown Kitchener used to have a really high vacancy rate and was not a place where tech companies would locate, instead moving to North Waterloo near the University of Waterloo campus," says Voisin. "We've seen the rise of another generation of tech companies, many of whom have gone down to (Silicon Valley) and come back to Kitchener/Waterloo for the talent, low cost of living and better quality of life. They're primarily employing millennials and locating within downtown Kitchener."
As tech companies move back in, there is generally "no vacancy among good quality assets." More condos are being developed or announced, the LRT is nearing completion and more shops and restaurants are opening their doors.
"It's a complete transformational change in downtown Kitchener from what it was five to 15 years ago," says Voisin. "That trend certainly gives me the confidence that downtown Kitchener is a great place to invest in."