With aggressive greenhouse gas reduction targets spurring the world's building sector to embrace new technologies and high efficiency systems, "net-zero" and "zero carbon" designs are driving green real estate development around the world. But given the fiscal, regulatory and tenant-related challenges already facing the apartment sector here in Canada, net-zero rental buildings have been notably slow to the party.
"As stated by the World Green Building Council and supported by the United Nations, all buildings need to be net-zero energy by 2050 for us to stop the critical two-degree temperature rise in our planet," said Albert Bicol, P.Eng, Principal at Albert Bicol Consulting. "That means we need to look at all building types, including apartments, to be designed to this standard. We already have the technology, now we need the urgency among the people and companies that influence the built environment to embrace it."
One reason for this lack of urgency, according to Bicol, is that many residential developers are still using an older business model of trying to maximize their profit in the short-term. "This makes it difficult to produce net-zero multi-res buildings," he said. "There needs to be a bridge between short-term and long-term cost benefits. For rental apartments, the long-term benefits can certainly be realized provided more value is placed on the future standard of living. Essentially we need to stop reacting and start acting if we want to prevent climate change. Unless this happens then I don't see how we will meet the 2050 challenge."
Thankfully, there are a few trailblazers in the purpose-built rental sector who are taking what Bicol calls an "urgent leap forward." In February, hot on the heels of opening Ontario's first net-zero energy commercial building and launching phase one of its net-zero townhomes, London-based Sifton Properties announced it had broken ground on two new projects: 1305 Riverbend, a 40,000 square-foot office retail building, and Helio, a 10 storey, 115-unit mixed-use apartment tower. When complete in April of 2020, Helio is slated to be the most energy-efficient residential high-rise in Ontario.
"This project will demonstrate first-of-its-kind net-zero energy construction in high-rise residential buildings, making it a model for the future," said Minister of Natural Resources Amarjeet Sohi at the groundbreaking ceremony in February.
Funded through Natural Resources Canada's Energy Innovation Program, $3.9 million will go towards Helio's innovative construction, a design that includes a monitoring system to optimize energy-efficient performance and to provide the industry with an important benchmarking tool. The greater goal of Helio is to demonstrate that by using proven and available technology to aggressively pursue net-zero, remarkable efficacies are possible even for large-scale multi-residential towers. The lessons learned and achievements realized will help inspire and inform widespread change across Canada's construction industry.
"Helio will be the most energy-efficient high-rise in Canada, designed and constructed to be 77 per cent more efficient than a similar building built under the current Ontario Building Code," said Richard Sifton, president of Sifton Properties. "This is quite an accomplishment, and there is no doubt that the Energy Innovation Program has enabled us to push Helio further than we ever thought possible."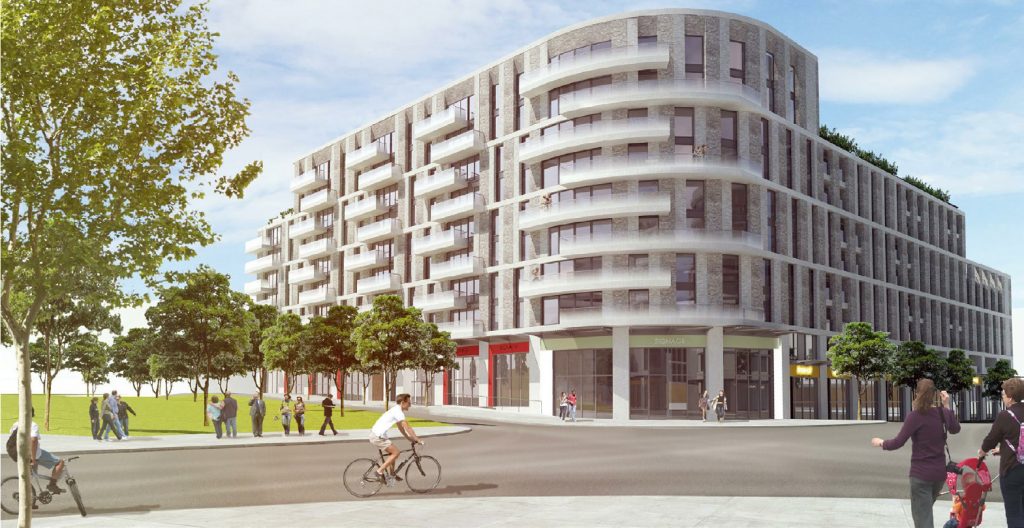 Located in the city of London, Helio will be part of Sifton's award-winning West 5 community, a fully connected, energy-efficient neighbourhood comprised of urban condos, rental townhomes, apartments and retirement suites overlooking retail spaces and a vibrant central park. Currently 80 families call the West 5 community home—but with the coming addition of Helio's 115 units, the community will densify considerably.
Publicized plans for the 10-storey building include an exterior wrapped in solar panels for power generation and suites individually metered for hydro. In-suite thermostat and wireless lighting controls will allow tenants to regulate their own usage. Sensored corridor lighting, electric car charging stations and ample bicycle storage will appeal to today's environmentally conscious residents who also prioritize health, walkability and "the greater good." Legacy Square, a large outdoor meeting space, will draw residents looking for social opportunities while the retail shops, restaurants and numerous on-site services will provide convenience—all connected by a network of trails, walking paths and open green spaces.
"There really is something for everyone," said Dale Pineau, Executive Vice President of Residential and Commercial Experiences with Sifton Properties. "The active, socially-aware community of West 5 offers diverse programming, and the future Legacy Square will surround the new building with innovative social opportunities for children, families, singles and more."
As the industry and the province await the completion of this leading-edge new property, energy-attuned designers and consultants like Bicol are urging other Canadian developers to follow suit. "To meet the 2050 Challenge, we need to work together toward achieving a net-zero energy standard across all our buildings moving forward. While more owners and developers like Sifton are striving for this goal, it should be ubiquitous," he maintained.
Helio's energy-efficient features:
• Building wrapped in solar panels to generate power from the sun
• Individual hydro metering
• In-suite thermostat controlled heating and air conditioning
• Electric car charging stations
• Garbage chutes to facilitate recycling
• Bicycle storage
• ENERGY STAR appliances
• Sensored corridor lighting
• In-suite "all off" lighting switch
• Walkable, pedestrian-centric community connected to trails, paths and open green spaces
Find out more: http://www.sifton.com