Three Canadian firms were named winners at the 12th annual World Architecture Festival (WAF). As the largest live-judged international architectural event, the festival celebrates the most innovative designs of the year.
WINNER: FUTURE PROJECT OFFICE (photo above)
Attabotics Headquarters, Calgary
Modern Office of Design + Architecture
The 'Office – Future Projects' award went to Modern Office of Design + Architecture for the Attabotics Headquarters – a new 12,000 sq metre manufacturing and office headquarters for a robotics company in Calgary, Canada. The judging panel was particularly impressed by 'the interiors and vertical integration of elements of the building'. They added that "the concept is perfectly thought through and developed into a beautiful building that sets new standards for modern manufacturing."
WINNER: FUTURE PROJECTS – CIVIC
Harry Jerome Community Recreation Centre, Vancouver
HCMA Architecture + Design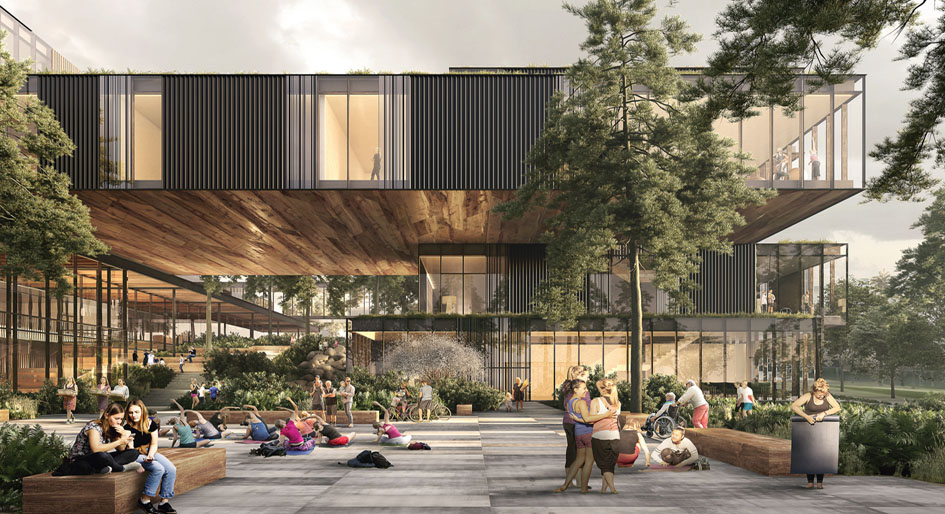 The 'Civic – Future Projects' category winner was Harry Jerome Community Recreation Centre in Vancouver, Canada by HCMA Architecture + Design. The building contains nine major spaces including an aquatic centre, ice arena, curling, gymnasium, skatepark, fitness and dedicates areas for children, youth and retirees.
Redefining recreation to promote wellness in the community, the judges commented "A flow of natural landscape, including water features, boulders and trees manages to permeate and enliven the upper terraces which allow views to the sea, the city and the mountains."
The judges were impressed how "Where possible huge areas of glazing dissolved the sports and arts activities with the landscape. Collages showing views through from the public atrium through the swimming pool to the mountains were stunning"
WINNER: FUTURE PROJECTS – HOUSE
75.9 House, Surrey
Omer Arbel Office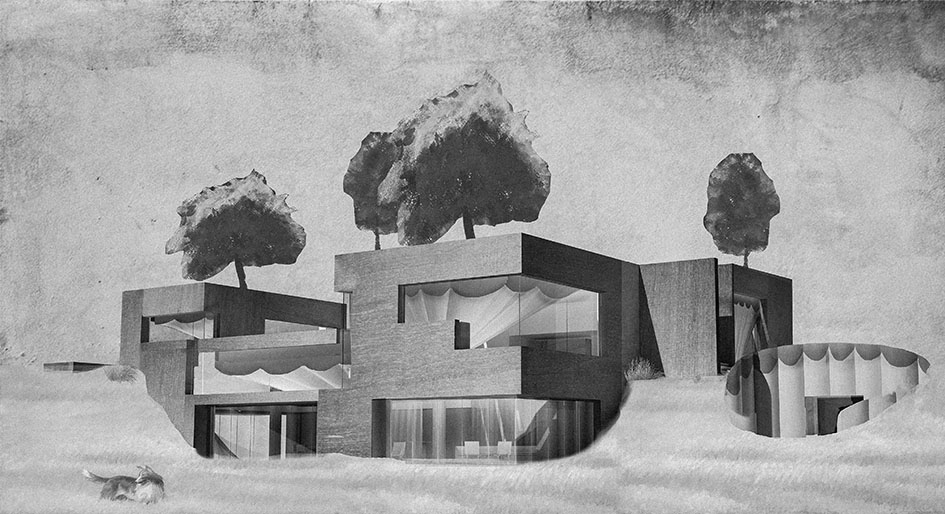 75 is a house constructed on a hay farm in the Canadian Pacific Northwest. The house makes use of a technique of pouring concrete into fabric formwork deployed within minimal plywood rib structures, yielding walls and columnar roof forms. The trumpet shape of the columnar elements is hollow, allowing planting of mature trees on the occupied roofscape, and their differing height and position describe a cinematographic narrative of domestic habitation.
The judges felt that "the combination of the experimental process with fabric form concrete tightly contained within its external frame but internally and spatially arranged making incidence, opportunity and surprise in the relationship between the building and landscape. The hollow column capitol creating the containers for pink magnolia trees to set an at roof level was sublime."