Measure Architecture has been making bold statements with its design sensibility since its inception in 2007. The Vancouver based firm had the kind of start that many young architects dream of – earning early accolades that not only drew widespread attention but validation of their high quality and bespoke design work.
In its first year, the firm received a Lieutenant Governor of British Columbia Award of Merit for a Mayne Island retreat and Western Living Magazine's inaugural Architecture Designer of the Year. Measured also won the Architectural Institute of British Columbia Emerging Firm Award in 2015.
"We were very lucky with our start, getting noticed and receiving accolades from our peers," says principal and founder Clinton Cuddington.
And the firm continues to earn recognition for design excellence, winning Western Living's Interior Designers of the Year in 2020 and most recently earning a 2021 Special Jury Award from the Architecture Foundation of BC for Shift House.
The award winning Shift House is a good example of the firm's work, standing out as a modern and innovative take on the classic Vancouver Special with ingenious use of materials to create a distinct and playful identity for this family home.
"Shift House is definitely a stand out for us because of its coarseness, and meeting the vision of its client," says Cuddington.
He explains part of their success is that they are engaged in every phase of a project from concept to completion, creating environments that meet the goals of clients. Collaboration is key to their design process where every key stakeholder is brought together early on to help execute the project vision.
"We're deeply passionate and care about our clients' problems. It's about creating strong relationships, and those clients who want to follow us down that collaborative road are a good fit," says Cuddington, who graduated from UBC with a Master's degree in architecture.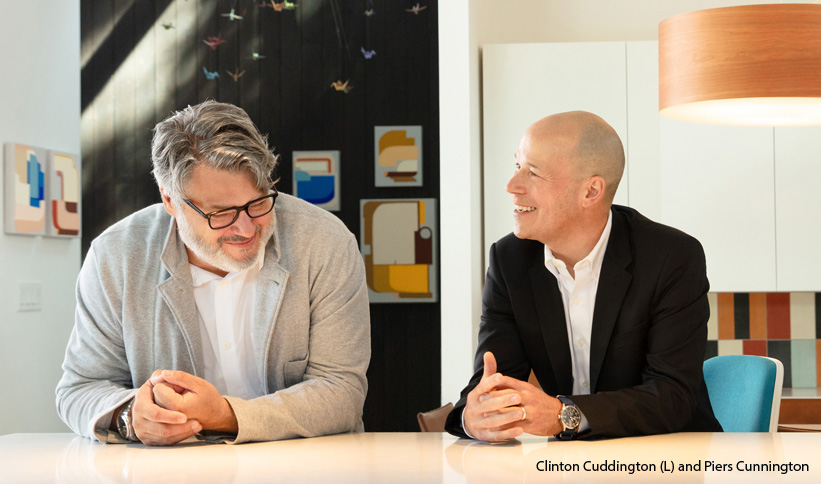 Growing up in Saskatchewan, Cuddington was a prairie kid surrounded by art, culture and activism. He was inspired to pursue architecture by Prairie modern architect Clifford Wiens, the father of a childhood friend, who then later mentored him as thesis adviser and in his professional work.
"I've always gravitated towards mentors – people that I admired in the field because they are pioneers in certain vernaculars – mid-century modern being one of them," he says.
Cuddington obtained a Bachelor of Environmental Studies from the University of Manitoba in 1992, followed by his Masters in 1997. He did short stints at different firms including studying abroad in Cairo, but spent much of his formative years working for Bing Thom Architects in Vancouver. He spent 10 years under the renowned architect's wing, working as project lead on the redevelopment of the Arena Stage Theatre in Washington, DC, and the Surrey Campus of Simon Fraser University.
"Bing taught me a ton. He put me in positions to learn. He was tough as hell on me, but it was an exceptional experience," recalls Cuddington.
In 2007, he founded Measured Architecture, fulfilling his ambition to have his own studio that concentrates on smaller scale work. The material driven firm is residentially focused with a 50/50 split between new builds and renovations.
"I've always been drawn to residential and not just luxury based work. I want to figure out how problems can be solved for every financial demographic," says Cuddington.
The full-service practice of 15 focuses on contemporary designs that integrate architecture, interiors and landscapes. As a boutique firm delivering with big firm experience, the design journey is collaborative and champions a client-oriented process.
"We're very material centric. We refer to ourselves as situational modernists," explains Cuddington. "We hope our work comes out of the traditions of Scarpa …where we're focused on material studies to create humanity, space, warmth, texture – set pieces to generate holistic architecture."
Piers Cunnington joined the firm in 2009 (after interning with Toronto's Shim-Sutcliffe Architects) and became a principal in 2014. Both principals serve as leads on projects, bringing their own unique perspective and extensive experience to the creative process.
"We both share the same sensibilities in the work but we come at it from different angles," says Cuddington. "Piers brings his rationalism to the problem set and tends to focus on the larger projects, and I continue to run problems through the rigour of architecture traditions. It's worked very well for us."
And that success has continued to grow over the last 14 years with the firm extremely busy – so much so that they "could easily be 25-30 tomorrow and still not meet our workload," he says.
Currently, the firm is working on several residential projects across the Lower Mainland, building off a long list of groundbreaking and thoughtful projects like the Wolfe House (his own family home), Cloister House, Shift House and the Veil House.
The firm recently completed its first net-zero ready home on Salt Spring Island, a new space for Equinox Gallery in Vancouver and is working on a new 120-seat beer garden for Parallel 49 Brewing Company. Design services for retreat properties have also risen during COVID, notes Cuddington, who is working on his own personal artist collective retreat property on Mayne Island in the southern Gulf Islands.
While the COVID pandemic has impacted every aspect of life, it did not slow down the amount of work the firm was doing. In fact, it validated that their types of residential living space designs were on the right path, says Cuddington.
"We had already challenged the typology of living, so our spaces had breakout environments for people to cohabitate and use Zoom. Breaking down barriers between prescriptive room definitions, our buildings responded quite well to COVID," he says. "People are invested in their places at an unprecedented level and we now don't have to push as hard on the merits of what was previously perceived as nice to haves. Architecture can fulfill the desire to create something uplifting in difficult times."
The firm is also increasingly being sought out for their contemporary solutions to "perceived historic problem sets like the Shaughnessy neighbourhood and preservation of mid-century work", adds Cuddington, who sits on the board of the Arthur Erickson Foundation and Vancouver's Urban Design Panel. He was also on the City of Vancouver's First Shaughnessy District Advisory Panel.
"We're known for how to build design rationales that describe that we are meeting goal sets of context and place in lateral ways," he says. "People are calling and asking for guidance to steer through difficult territory where individuals that are not invested in the problem set are pushing to a compromised outcome."
As for the future, Cuddington says the firm is facing pressure to think about growing into the world of large scale architecture.
"We're good at what we do as a boutique firm and don't want to dilute what we do. But I know we need to start moving to affect change on a larger scale. So I think that's going to be the next step but it's scary," he says.
Although both principals (Cuddington, 54, Cunnington, 51) are still young, succession planning is another focus moving forward.
"We're thinking about succession planning – not that I'm ever going to retire," says Cuddington with a laugh. "But we hope to begin empowering individuals and moving them into identifiable roles for growth in their careers. There is some serious talent in this office. They deserve their time and to have their voices heard."
Cheryl Mah is managing editor of Design Quarterly.