All levels of government in British Columbia (B.C.) are leading by example, showcasing what's possible with wood construction and demonstrating the importance of sustainable building.
Through its Wood First Act, the province of B.C. encourages public institutions to consider using wood in construction where appropriate. Since the act was introduced about a decade ago, more than 50 B.C. municipalities have adopted wood-first resolutions, policies or bylaws — promoting locally sourced timber construction as a way to take action against climate change.
Wood has become the predominant structural and finishing material for fire halls, municipal buildings, police stations and libraries throughout the province. Wood harvested from sustainably managed forests has many inherent benefits; it's a sturdy building material, a natural insulator, good for health and wellbeing, and fast and efficient for construction.
Former City of Surrey Fire Chief Len Garis said he wants people to see the many benefits and beauty of wood — and to understand that it's a safe and durable material we can use with confidence.
"Living in British Columbia and understanding our connection both economically and socially around wood is really important," said Garis. "It's everywhere and it's a large part of who we are."
The Qualicum Beach Fire Hall on the east coast of Vancouver Island makes extensive use of wood-frame construction, demonstrating wood is fire-safe, resilient, and cost-effective — all considerations for the municipality. The building's wood frame uses laminated veneer lumber (LVL) panels for its upper floor and roof systems; the use of LVL is estimated to have cut construction time by more than half compared to a conventional steel or concrete system. The vast majority of wood for the project, conceived by Johnston Davidson Architecture + Planning Inc., was locally sourced.
Richmond City Hall was one of the first major civic buildings in the province to prominently feature a wood and heavy-timber structure as its defining architectural statement. The building's soaring galleria structure is a series of Douglas-fir glue-laminated timber (glulam) portal frames with heavy timber decking. The architect of record was DIALOG, and KPMB Architects was the associate architect on the project.
In the Okanagan, the Summerland RCMP detachment used traditional wood-frame construction with exposed solid-sawn lumber as both a structural and a finishing material. The glulam post-and-beam structure, design by KMBR Architects Planners Inc., also uses light-wood-frame construction for the walls. The eye-catching entrance canopy is built of nail-laminated timber (NLT).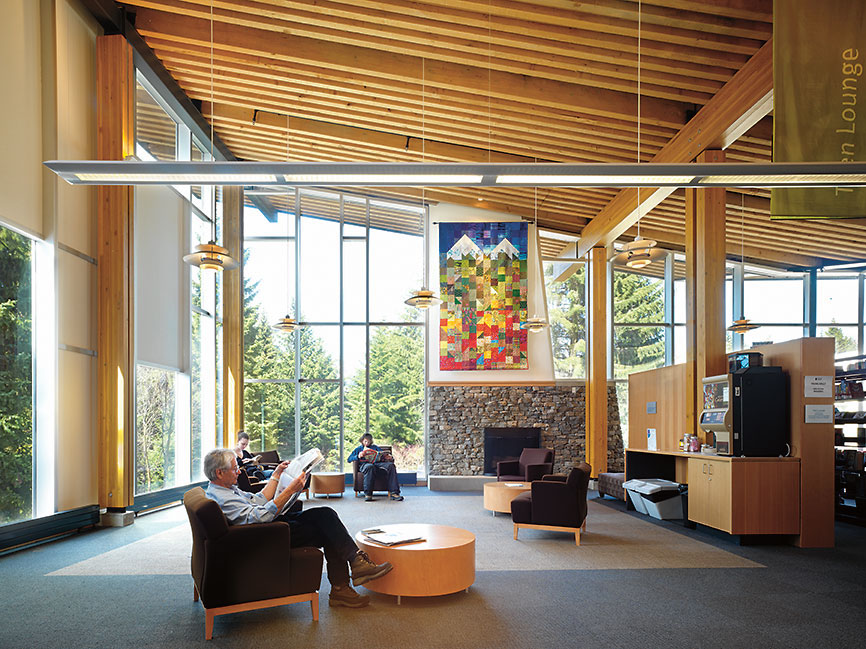 The form of Whistler Public Library makes good use of its site's orientation to the sun, while reclaimed Douglas-fir millwork enhances the warm feeling of the interior. The solid wood roof system uses prefabricated panels made of solid hemlock. Photo: Martin Tessler
The Whistler public library is a fresh and modern structure that works within the resort municipality's design guidelines. The HCMA Architecture + Design project features a solid-wood roof system composed of prefabricated panels made of solid hemlock members that span distances of up to 14 metres. Innovative use of hemlock in its construction demonstrates the commercial viability of the abundant, yet underused species. Reclaimed Douglas-fir millwork enhances the warm feeling of the interior.
These projects and others are featured in a newly released book, Naturally Wood, which showcases British Columbia's cutting‐edge wood architecture and design. The beautifully illustrated, 160-page publication contains more than 65 innovative wood buildings and projects, including how wood is being used in public and institutional buildings.
Four continuing education units have been developed based on the book. They are recognized by the Architectural Institute of British Columbia and are available at naturallywood.com/naturally-wood-ceus.
Download the Naturally Wood e-book at naturallywood.com/nwbc.