The design of a new mid-rise condo development in the Leaside neighbourhood of Toronto will incorporate a new vision for amenity spaces that builds resilience in multi-unit residential settings.
Leaside Common—a project by Gairloch Developments and Harlo Capital, will appear like two boutique buildings attached at the hip. Clouded in glass, the central connection introduces a design concept called the Nest, a shared open space on each floor that brings both sides of the development together.
The Nest will function as both a co-working lounge and a community hub where people can congregate. At nine storeys, the condominium will span 103 metres and feature 198 units ranging from studios to three-bedroom penthouse suites, including 10 townhomes.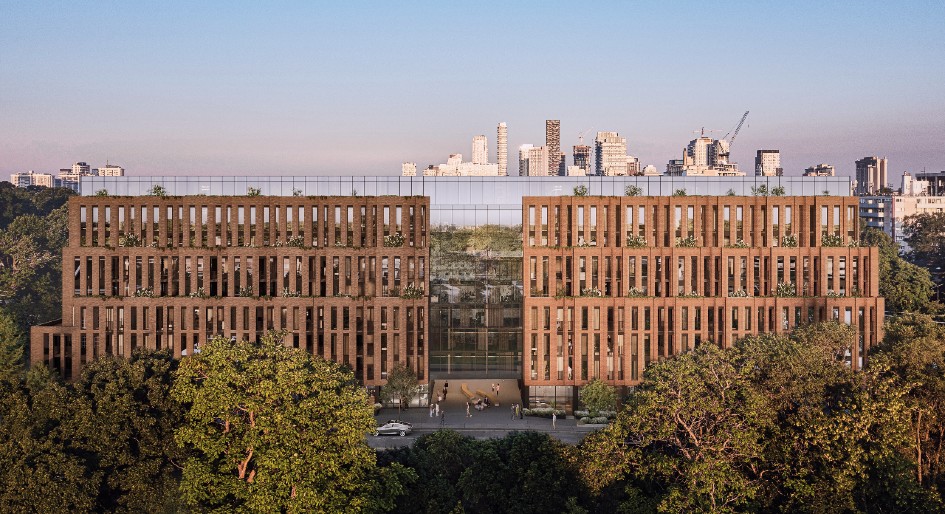 Said to invoke "the grandeur of a high-rise turned on its side," the development is encased in dual-tone bricks and features vertical windows in a modern simplicity. The brick pattern is sculpted to appear like a moving accordion. Balconies with integrated planters are purposeful in their design to create luxurious balconies and terraces.
"You don't see a lot of brick in the city used in this way," says Heather Rolleston, principal and design director at BDP Quadrangle. "The façade has movement, and a unique texture that makes the building feel luxurious. It's akin to a woven blanket that welcomes you in.
"I think modern simplicity is something that Gairloch does well. We worked together on their 383 Sorauren project, which went on to receive a Toronto Urban Design award."
Gairloch has already started to build roots in the neighbourhood with its 1414 Bayview project, currently under construction at the south end of Leaside's high street. This new project will be located steps from the brand-new Bayview-Eglinton LRT.
"After having lived in the Leaside-Bennington neighbourhood, my admiration and understanding for the community has only grown," says Bill Gairdner, founder and president of Gairloch Developments. "It's been an honour and a privilege to have the opportunity to develop two mid-rise developments on the same street in such a great neighbourhood. I believe that this project embraces the exciting changes that are coming to this node of the city with a building design that will hopefully stand the test of time."
For interior amenities and suite designs, Gairloch retained Sixteen Degree Studio, known for working with single-family homes in Midtown Toronto.
"We tried to put ourselves in the many different shoes of the purchasers of Leaside Common, pulling from our client experience and single-family home designs," says Stephanie Vermeulen, co-founder and Principal at Sixteen Degree Studio. "Our goal was to ensure a design aesthetic that will feel current for many years to come."
Residential units offer robust natural light throughout. Finishes include oak flooring, Caesarstone countertops in a cloudy white with grey marble veining, and polished chrome hardware. Custom-designed Italian kitchens include integrated appliances, flat cabinetry, robust storage and under cabinet lighting. Transitioning between kitchen and living space, kitchen islands are designed for comfortably dining.
"Our preference is for clean kitchen designs with concealed storage to hide clutter," adds Kelly Doyle, co-founder and principal at Sixteen Degree Studio. "In open plans, the defining features of the kitchen itself should be subtle, opening up more opportunities for kitchen and living spaces to serve multiple functions in the home. We feel this is especially important in condo design."
Building on the theme of a warm brick building embedded in lush neighbourhood greenery, the designers aspired to bring natural outdoor elements to the interior amenity spaces. For example, dapple lighting, or lighting that appears to be filtered through the leaves of trees, is reflected in the lobby with Canadian-designed fixtures. Nature inspired colour palette for the furniture and décor is juxtaposed with textured metallic wall coverings.
Condo amenities at Leaside Common consisting of a multi-purpose party room features a direct link to outdoor BBQs and dining amenities. Communal workplaces are well lit with natural lighting from the west window paneling, and the gym amenities look onto Bayview Avenue.