Spear Street Capital in Burnaby had a dated and uninspired lobby. The three primary goals of this project for SSDG Interiors were to activate the large main lobby of this suburban property, provide new tenant amenity space, and increase leasing interest in the building. The existing lobby was a large, open space with limited seating that was only used occasionally.
To establish the project's design direction, the design team developed a visual response to the owner's three design guidelines: create an "energetic and dynamic" space, capture a sense of "ideas in motion", and define "the new suburban".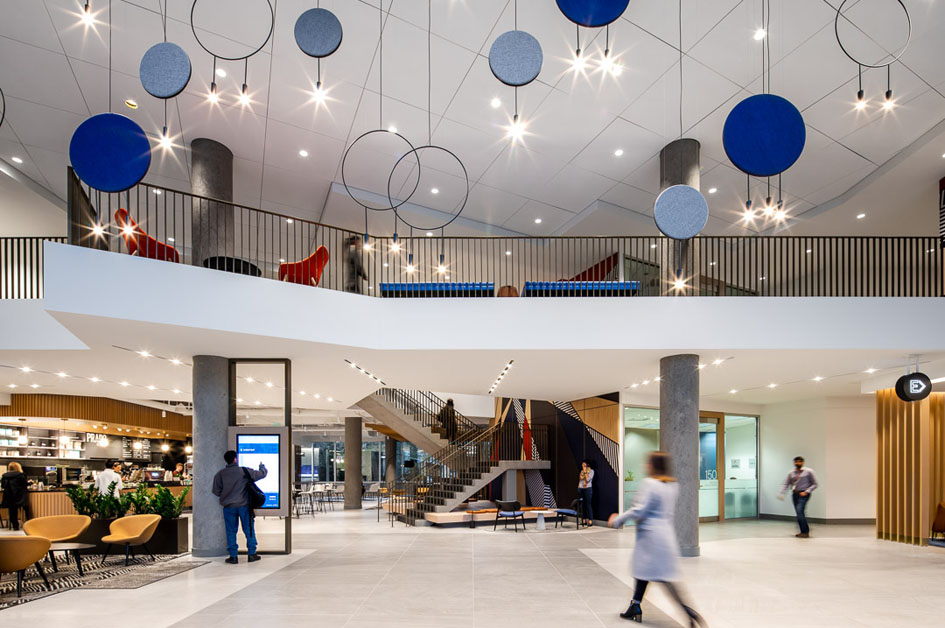 These ideas were distilled into a goal of creating the illusion of movement shaped by user experience, which was brought to life through the concept of bike spokes.  Repetition of closely spaced linear and radial lines create a sense of movement as tenants navigate the space, like the blur of a bike wheel in motion.  When the users are static, the space becomes static, like a stopped wheel.
The next challenge was to develop a layout that would activate the space. Three categories of seating were developed based on the length of stay: short, medium and long.  Short stay groupings were identified as touch-down points close to the main entry and the new café kiosk, featuring high-top tables and stools, keeping users at eye level with passing tenants while perched near main circulation paths.
Medium stay seating groups were created to provide lounge spaces and comfortable seating for coffee breaks or quick meetings, and were dispersed through the central area of the lobby and lounge. Lastly, the long stay seating groups were envisioned as spaces to enjoy lunch or to provide an alternative workspace.  These zones were located deeper into the lounge, and feature comfortable seating with accessible power.
Overall, the completed workplace renovation has been a huge success, both for the building owner and the tenants.
The project earned SSDG Interiors a 2020 IDC Value of Design Award of Merit in the category of Innovation in Workplace Design.
Photos by Upper Left Photography