Robert Lange
Canadian Facility Management & Design
Cambie Fire Hall No. 3 and Richmond North Ambulance Station is the first in a major B.C. city to bring fire and ambulance services under one roof.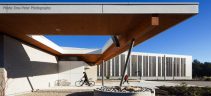 Canadian Facility Management & Design
UBC has taken a page from Harvard with its newly opened Library PARC facility, using a model that extends the shelf life of books from 30 years to 300.