Landa Global Properties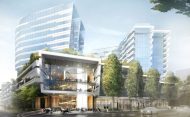 Design Quarterly
Arno Matis Architecture and Rafii Architects along with Studio Munge are the design team for a mixed-use development project in Richmond.
REMI Network
Landa Global Properties has bought a 3.5 acre property in Richmond, B.C, with plans for housing, retail and a hotel.
Construction Business
A new proposed project at 1400 Alberni Street will make Vancouver home to the world's tallest passive house towers at 48 and 43 storeys.