Investment in Affordable Housing agreement
Canadian Apartment Magazine
The federal, provincial and municipal governments announced that they are investing over $74 million to create more than 675 affordable housing units throughout the city of Ottawa.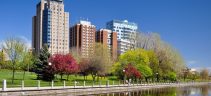 Canadian Apartment Magazine
A 74-unit affordable rental housing development has officially opened in Ottawa, Ont. The complex, located at 140 Den Haag Dr., offers housing for low-income individuals and families as well as persons with disabilities.
Canadian Apartment Magazine
A $68-million Investment in Affordable Housing (IAH) agreement has been reached with the federal government and the Government of Newfoundland and Labrador. The funding, delivered through an extension to the existing IAH agreement, will be distributed through the Newfoundland and Labrador Housing Corporation (NLHC) over the course of five years.