TradeRev, a Toronto-based start-up that caters to wholesale automotive sales, has settled into its new office. Wall-to-wall windows wrap around the open concept space, brimming with communal tables, glass enclosed breakaway rooms and a relaxation area with video games. Lime green and gray configurable lounge furniture clusters in the middle, and just outside the office, leafy green vegetation surrounds exclusive outdoor patio seating.
While the space features elements that would appear in a hip, new downtown Toronto building, near companies like Google and Facebook, this office is far from the bustle of the core. Located in 90 Sheppard, a tower at Sheppard and Yonge Streets in North York, the growing tech company decided to carve a unique and cool space in a 35-year-old building.
They passed on the trendiness of downtown for a few reasons, but it was mainly accessible transportation and green space that hooked them into calling 90 Sheppard home. Jae Pak, co-founder and creative director at TradeRev, says such amenities will help attract and retain top talent.
"We were looking for something unique, something that would attract potential employees, but would also be a fun place to come to," he says. "We started looking downtown, in the core, but one of our requirements was that we needed to be near the subway line for easy access."
Most of its employees didn't live in the core. While TradeRev found some interesting spots between Queen and Bloor Streets, they ultimately decided to stay in North York, near their old office in the Proctor and Gamble building.
"Even though we realized it might be slightly negative for new, potential employees, we thought if we're right on the subway line, off the 401 and near the DVP, that we're accessible even for people who live downtown," he notes. "It didn't carry the same cache, but we thought if we could find the right space, we'd still attract the right people."
The right spot came along after they were introduced to owners of 90 Sheppard, Crown Realty Partners. A daylight-filled atrium in the middle of the lobby immediately caught their eye, along with a fitting office space and its empty canvas that could be built into an open concept design.
"We wanted to design the space from the ground up; we didn't want to be another office with many different rooms and drywalled walls where people feel confined," says Pak. "We were following the trend of a southern California tech company, with everything open and democratized, where everyone can feel like an equal team member of the larger company."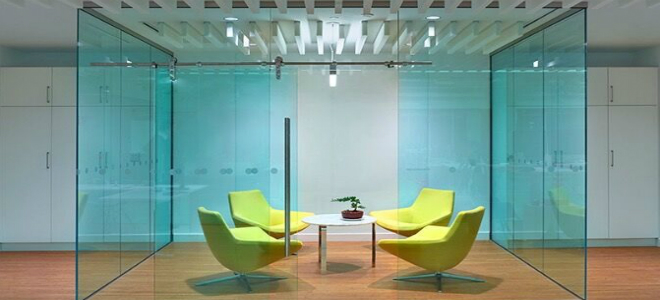 TradeRev is just one of many successful tech companies whose expanding business is pushing them to pursue larger, less cramped spaces to accommodate a growing workforce. Every year, more of these companies are turning to Class B stock to craft a special home in a property with personality and competitive amenities.
Scott Watson, partner of leasing at Crown Realty Partners, sees good demand for assets like 90 Sheppard whose 266,700 square feet of space is currently 94 per cent leased, mainly to the provincial government. Yet, the tech industry, while helping to reinterpret the meaning of a workplace, isn't the only sector putting roots down in older stock.
"Everyone sees themselves as a tech company. Everyone is fighting for the same talent," Watson points out, adding that an array of companies undertaking a move now have this vision of adding uniqueness to their space in a cost effective way.
"We are helping these companies to rethink older buildings to create awesome spaces across the portfolio," he adds. "Tenants at locations like Yonge and Sheppard can be paying less than $40 gross per square foot in rent, while downtown brick-and-beam buildings are well over $50 gross per square foot."
Many of these older properties, at least in Crown Realty's case, also accumulate value and improve marketability through awards and sustainable certifications. Along with attaining BOMA Gold certification, 90 Sheppard was honoured with an Outstanding Building of the Year (TOBY) award in 2015 for excellence in building management. Criteria were based on an array of factors from tenant relations and energy conservation to emergency preparedness. Even though locations aren't the same as in the core, tenants still demand and deserve the same service.
TradeRev found it didn't have to be in a new building to align itself with sustainability. From recycling programs to hybrid car charging stations, building exclusive common fitness centres and meeting rooms, the company is granted similar service that is expected within downtown properties.
"Every guest we have coming in loves the space," adds Pak. "Employees value their environment and are happy because we went to great lengths to make it comfortable for everyone. There's such competition now in terms of attracting people; the work environment is a big factor—stepping into an office and feeling empowered about where you are working."
Rebecca Melnyk is online editor of Building Strategies & Sustainability and Canadian Property Management @rebeccachirp