RioCan Living announced it is preparing to lease-up its first rental development, eCentral, in midtown Toronto before the year's end. The 466-unit, purpose-built rental located at Yonge and Eglinton accounts for a fifth of the approximately 2,300 rental units currently under construction in the RioCan Living portfolio.
The RioCan Living portfolio could include more than 5,000 completed residential units within the next five years. In addition, there will be residential development commencements in that same period comprising several thousand additional units.   "The launch of RioCan Living this past March was in part motivated by a shortage of new purpose-built rental buildings in large Canadian cities," said Ed Sonshine, Chief Executive Officer of RioCan. "The government of Ontario's recent amendment to rent control legislation as it applies to new purpose-built rental development has encouraged RioCan to move forward more expeditiously to expand our rental residential portfolio. RioCan is uniquely positioned to address the void by developing the properties we already own in major markets that are also strategically located on transit lines."
"Our ability to come to market with a product like eCentral within the same calendar year as our residential brand launch is indicative of the strength of our team and development capability" added Jonathan Gitlin, Chief Operating Officer of RioCan. "We have a deep and talented roster of experts in place who are working to deliver best-in-class, professionally managed residential units to the cities and communities that need them most."
eCentral is a 36-storey rental residence situated within ePlace, a 712,000 square foot (net leasable, or saleable area) mixed-use development that also features retail, office and residential condominiums. Located at the intersection of the Yonge-University subway line and future Eglinton Crosstown LRT, eCentral is the prototypical RioCan Living development, with an emphasis on design, quality, professional management, retail integration and access to transit. Leasing will begin before the end of 2018 and residents will start to move into the building in the first quarter of 2019.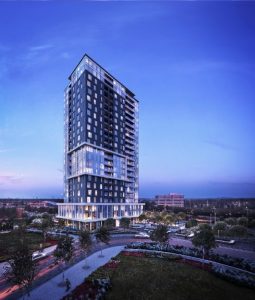 A second RioCan Living development is also slated to begin leasing this year. Frontier is a joint partnership between Killam Apartment REIT and RioCan Living. The 23-storey, 228-unit rental residential development is located adjacent to RioCan's Gloucester Silver City shopping centre and is steps from the newly built Blair LRT station. Frontier will be the first residence of a five-phase community in the Gloucester neighbourhood in Ottawa, and will enter the thriving market in the nation's capital when leasing opens to prospective residents in December.
Zoning is complete for all five phases of the development and site plan approvals are in place for the second phase. Of the eight rental projects (or 2,300 rental units) actively under construction in the RioCan Living portfolio, five, including eCentral, are located in Toronto, one is in Calgary, and two, Frontier Phase I and II, are in Ottawa.
Residents will be welcomed to two of the projects in 2019 and occupancy for an additional three will begin in 2020. These inaugural properties are just the beginning of a healthy pipeline of development opportunities within RioCan's existing portfolio.