We live in a time of constant change: News cycles, weather patterns, technologies, geopolitical and economic considerations moving and morphing faster than ever. All of these factors have significant impacts on our buildings and work environments. And so devising strategies to address this constant change becomes an important task for our city's designers, architects and technology experts.
According to the Resilient Design Institute, resilient design is the "intentional design of buildings, landscapes, communities, and regions in response to vulnerabilities." These vulnerabilities include climate change, resource destruction and depletion, and other challenges to human wellbeing. And it is becoming increasingly important to design resilient spaces that can weather these shocks.
When designing and building our environments, how can we become more resilient?
To explore these issues further, Canadian office furniture manufacturer Inscape invited Toronto-based design and real estate leaders to the first-ever Inscape Inspires: A Talk Series.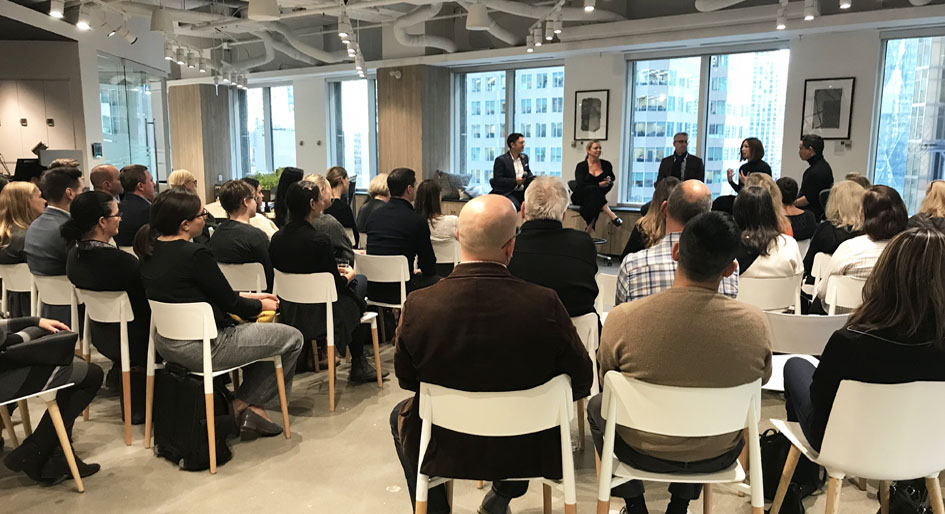 The panel of speakers explored the significant steps businesses, governments and learning institutions are actively taking towards the practice of resilient design in Toronto and beyond. Some key insights from the discussion surrounded sustainability, how to best prepare for major technological changes, and evolving real estate and workplace design strategies.
People-Focused Design
Kevin Katigbak, senior workplace strategist at Gensler, shared that resilient workplace design needs to include a plan for people and diversity. This means designing for equality, not just accessibility. He observed a change in workplace planning over time: 15 years ago, designers were focused on workplace strategies, including work styles and technology. Then 10 years ago, the hot topic turned to demonstrating the company brand in a way that resonated with the employees. Today, designers focus on the experience of the space, and how people use it.
Part of resilience is business continuity, and the ability to adapt and recover after some kind of stress or environmental difficulty. Suzanne Bettencourt, partner at figure3, says that to create resilient workplaces, design should focus on the people. She notes that, "if you focus on designing a space that makes people happy, then people will come together in difficult times."
Lisa Fulford-Roy, SVP of Client Strategy at CBRE, concurs with this view, "finally we're at a crossroad in the industry where facilitation, communications, change management and people-centric solutions are all fundamental to good design." Resilient workplaces need to be able to adapt over time, and it must be done in a way that's not disruptive or too costly. Focusing on people is how to create these resilient solutions.
Sustainability Practices
Businesses are increasingly focused on sustainable practices to be as resilient as possible. One interesting way we're seeing this is the popular trend of co-working spaces or work-from-home strategies. Many organizations look at these tactics as a solution for short term needs that they can't forecast for.
In the short-term, most organizations are benefiting from having this flexibility. The long-term challenge is that it is of course more costly. Overall, businesses that employ co-working or work-from-home tactics are able to occupy less space, consume less energy, and decrease the overall carbon footprint of the organization. Less fuel is used and less pollution created. It also means less wear and tear on the roads, which saves public money for investment in public transport or into the development of renewable technologies.
Technology Implementation
Fulford-Roy says that when it comes to resilient technology design, firms are looking for speed, ease of use, intuitiveness, and solutions that are ubiquitous across the organization. With 5G networks coming, workspaces are going to require more speed than ever. According to Russell Smith, solutions director at DTS, the best way to design for resilient technology that can handle this change is to invest in acoustics and the best cabling you can afford.
The most important thing that Smith tells his clients, however, is that it's not possible to future-proof a company's technology investment, "Five years from now, best-in-class technology will be completely different from today." To plan for this change Smith recommends that businesses follow a 3-5-10 refresh-renew-replace rule, "in three years, you're going to refresh your technology. In five, you'll need to renew some of the key pieces. And in 10, get the cheque book out because it's time to replace!"
Above all else, human well-being is the number one priority when addressing resilient design. In the workplace, employee satisfaction, happiness, engagement and physical health drive many of the critical decisions we make not just in amenity spaces, but in public circulation and workspace. Addressing personal wellbeing enables employees to respond and be resilient in the face of mass change when it comes.
David Gerson is Inscape's chief brand officer, responsible for the overall brand and product marketing strategy for Inscape.