Commercial and industrial buildings are incorporating more wood into their construction. Along with the strength needed to last in heavy duty applications, wood has its own unique advantages.
Wood's warmth makes it perfect for adding a cozy feeling to retail and office spaces, and the speed and efficiency that prefabrication offers is perfect for manufacturing buildings with a repeatable floorplan. Modern mass timber buildings arrive at the construction site in components prefabricated off-site in a climate-controlled environment to be easily installed when they get to their destination.
Wood was a natural choice for the construction of StructureCraft's facility in Abbotsford, B.C., which was built from a simple kit of parts composed of glue-laminated timber columns and beams, tall wood walls, and wood roof panels.
"It gives you a warmth you just can't get with steel and concrete," said Gerald Epp, president of StructureCraft and former partner of structural engineering firm, Fast + Epp. "In a workplace it feels at home, in an office you can pin things into it, it curves easily, it's inherently natural, it's a familiar material to us."
The company's facility was erected in just five days. In the past, industrial types of buildings have been built with tilt-up concrete walls and steel roofs; however, StructureCraft designed theirs with wood, which cost around the same as a tilt-up building, only with increased energy efficiency and more appealing aesthetics.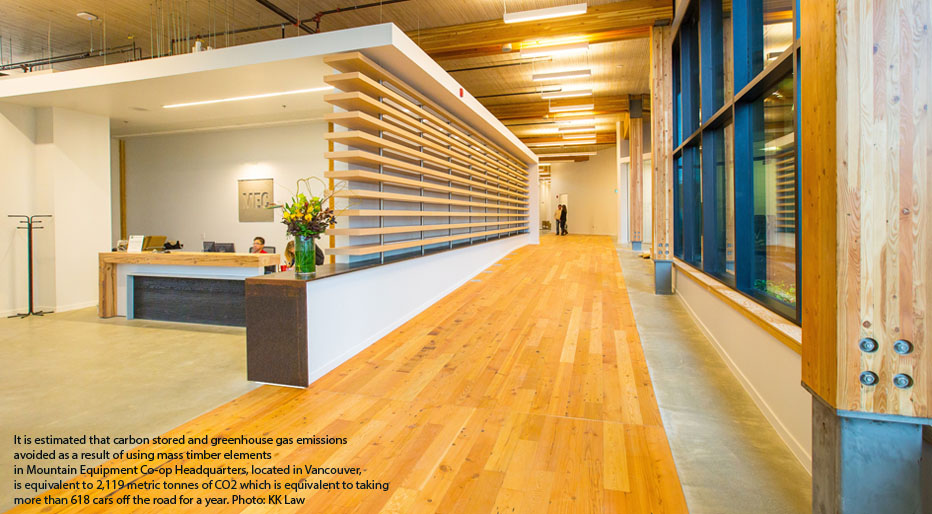 Outdoor gear retailer Mountain Equipment Co-op's head office in Vancouver is filled with the warmth and bright hues inherent with wood. The four-storey building is constructed with glue-laminated timber and nail-laminated timber (NLT), while interior Douglas-fir millwork screens offer an inviting alternative to traditional office cubicles. The company chose wood for its performance and renewability, and left the structural elements exposed inside the office space for aesthetics.
In Prince George, the state-of-the-art Wood Innovation Research Lab is the first industrial building in North America to earn the Passive House standard. The single-storey structure is composed of glue-laminated timber columns and beams. Instead of using conventional wood studs, the 10-metre tall wall panels are framed with locally manufactured, custom-built lumber trusses.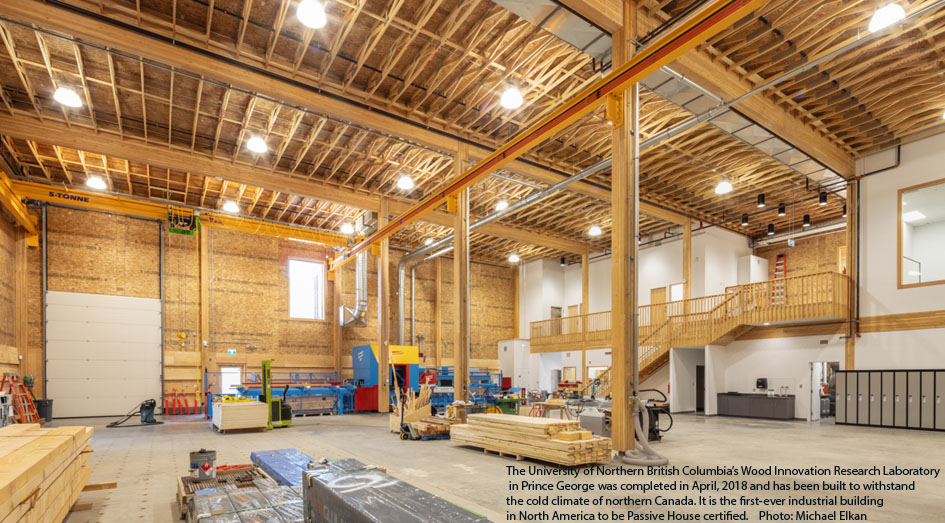 "We pulled off something really amazing here. This building is an engineering marvel," said University of Northern British Columbia's associate professor of engineering Dr. Guido Wimmers. "It has caught the attention of Passive House researchers around the world because it demonstrates how an industrial structure — constructed with wood in a northern climate — exceeds a rigorous, internationally recognized energy efficient standard."
Timber is not at all out of place in the urban architectural landscape. Wood adds flourish to the mixed-use Central City building in Surrey, with a unique wooden web made from 3-D timber in the atrium. The atrium roof features a geometric wood space frame constructed from 3,700 Douglas-fir peeler cores — making full use of a byproduct of the plywood industry. Built in 2003, the combined shopping centre, commercial office space and university pushed the boundaries of what's possible with wood.
British Columbia's cutting‐edge wood architecture and design are featured in the newly released book, Naturally Wood. The 160-page publication features over 65 innovative wood buildings and projects in British Columbia, including how wood is being used in commercial and industrial buildings. There are feature articles and essays offering insights and interviews with a range of experts in the field.
Download your Naturally Wood digital copy here.