Soon to complete in October of 2020 is Concert's Tapestry Victoria Harbour in Victoria, B.C. Strategically situated close to the inner harbor and city centre, this 15-storey tower with a five-story podium designed by DYS Architecture has 42 market suites and 133 rental apartments, and is BBA Design' s first seniors independent living residence.
In keeping with Tapestry's focus on a welcoming home environment, BBA created a decor that is both tailored and contemporary through its use of comfortable, stylish furniture, warm wood paneling, marble accents and contemporary artwork throughout.
With years of experience in hospitality design, BBA selected fabrics with a residential look and feel that are both stain resistant and heavy duty without compromising a luxurious feel.
Extensive research by BBA's team members Jennifer Brown, Brigido Libut and Sharon Bortolotto was undertaken in the interior design of the common areas and suites.
Two years ago, BBA's principal Bortolotto tested some of these theories while recuperating from a hip operation for a week in a Vancouver senior's residence. She gained a lot of insight into how seniors engage in the various spaces and welcomed their comments on decor shared through many lengthy meals in the dining room.
Thoughtfully designed spaces and flooring surfaces providing ease of mobility were very important to them as well as comfortable, attractive furnishings.
Dedicated to social connection, dining and wellness, the project's amenities include a main floor fireside lobby lounge, 96 seat restaurant, pub, card room, media room, and a rooftop wellness centre, fitness room, activity room, lounge and adjoining kitchen, and rooftop terrace with an outdoor fireplace.
Materials such as warm wood paneling and walnut inspired vinyl plank flooring were chosen for their durability as well as creating a commonality of finishes and flow throughout the main floor amenities: ie lobby lounge, pub and restaurant. In addition to these finishes the lobby lounge has a long linear fireplace with a feature marble surround and inset wool area carpet in a floral motif to showcase the furnishings.
The pub is intimate with 22 seats and a blue tiled back bar and decorated with west coast art. The entrance to the restaurant is featured with a wood portal in an open grid and a wine display.
To lessen the noise from the open kitchen, BBA incorporated an acoustic wood ceiling and a paneled wall with wood and felt wallcovering behind upholstered curved banquettes.
Provision is made to store the walkers during the dining experience in an alcove off the restaurant.
The media and card rooms offer flexibility with the use of a folding partition to enlarge or enclose the space to suit the various functions. An acoustic wallcovering is applied to the rear wall of the media room for movie watching.
With panoramic views overlooking the city and harbor, the 5th floor lounge opens onto a large terrace featuring an outdoor fireplace with comfortable furnishing and lush planting.
The suites are also thoughtfully designed with vinyl plank flooring, stainless steel appliances, quartz slab kitchen countertops, flat grained wood laminate cabinetry with display shelving for those special pieces and spa-inspired bathrooms creating a tasteful and sophisticated home environment.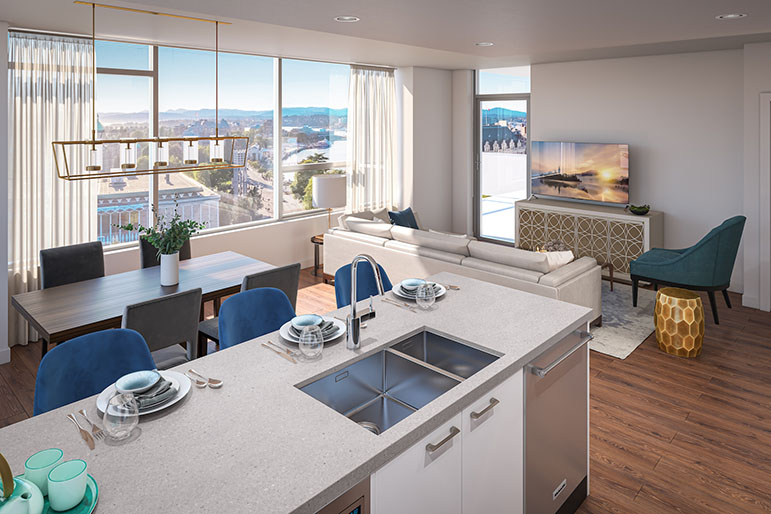 Entrance to each suite is identified with a wood laminate surround and granite ledge in which to add a vase of flowers or decor piece to personalize each resident's home.
Attention to detail, seamless integration of materials and curated artwork help to create an inspired environment for gathering and sharing for active seniors.
Architects: DYS Architects
Interior Design: BBA Design Consultants
Contractor: Campbell Construction
Owner/Developer: Concert Properties