The Healthcare of Ontario Pension Plan (HOOPP) recently handed out its sixth annual LEAP Awards to honour property managers and tenants across Canada for leadership in sustainability initiatives and innovation.
Presented at HOOPP's new home, One York Street, a LEED Platnium, mixed-use development in Toronto's financial district, the awards are part of the HOOPP Real Estate group's leading sustainability program which relies on collaboration with management partners and tenants. HOOPP works with many partners in the real estate industry globally, to lead and advance sustainability practices in the industry.
"HOOPP develops healthy, efficient and high-quality buildings," said President and CEO Jim Keohane. "In Ontario alone, we have over 16.4 million square feet of development and have invested over four billion dollars."
The awards were presented in the categories of Performance, Collaboration and Innovation. The winners are: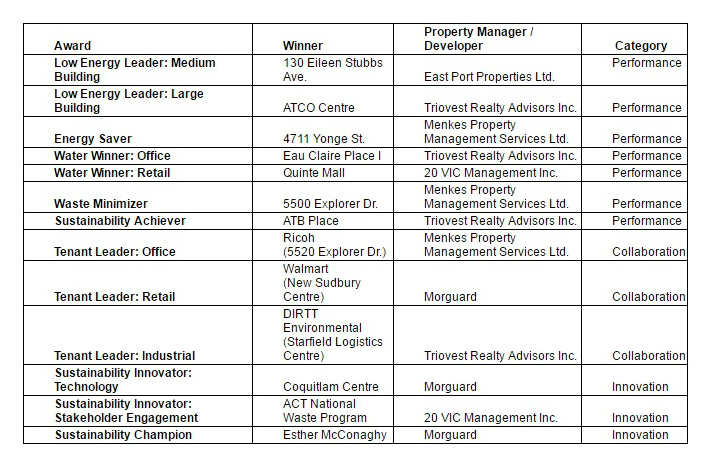 A recent HOOPP survey conducted by Leger found that Canadians are deeply concerned in environmental sustainability, both in their homes and at the workplace. Only 51 per cent are familiar with the concept of smart cities, and just 47 per cent are familiar with LEED certified buildings. Two-thirds of respondents said they would view current employers "more favourably for adopting environmental sustainable resources, programs and practices in the workplace."
Prior to the awards ceremony, HOOPP held its third annual conference bringing together sustainability leaders and senior management to share experiences, challenges and best practices. This year's theme, Evolution: Building a Smart Future, focused on how sustainability in real estate is evolving with focus on how tenants and landlords are collaborating to improve performance and how smart buildings are influencing the sector.
For the second year, HOOPP added to the program LEAP Forward, an opportunity for property managers to pitch their innovative sustainability improvement ideas to HOOPP Real Estate decision-makers for implementation.
Photo courtesy of HOOPP: Ontario Minister of Environment and Climate Change Glen Murray, Peter Menkes, Julian Sleath and HOOPP President and CEO Jim Keohane and the management team.