The beginnings of a brand new neighbourhood pulsate in Southern Ontario. Plans are taking shape for a $125-million-plus large-scale development in Galt, a community in the regional municipality of Cambridge, about 100 kilometres west of Toronto. Repurposed heritage properties, new high rises and a technology hub will be a feat known as the Gaslight District, a blend of culture and commerce, residences and restaurants, a live-work-play setting, a union of public space and business innovation.
Much is expected. Not since the 1980s has a development been projected to make such major economic and social impacts in the region.
"We had Toyota come into Cambridge in 1985, a facility that has 6500 workers, a huge impact on the city," says Cambridge Mayor Doug Craig. "This is the next biggest thing since Toyota, in terms of having a transformational impact on the community, especially the downtown area of the old Galt community."
HIP Developments, Grand Innovations, Conestoga College and the City of Cambridge have all partnered on the Gaslight District, named in honour of the area's historic streetscapes that were once dotted with gas lampposts crafted by the former Galt Gas Light Company. HIP began eyeing the historic Southworks property two years ago, before it jumpstarted its vision to reimagine a whole community. The 1800's foundry buildings will transform into a premier restaurant, entertainment and artisan destination centered around a European style cobblestone courtyard called Center Square. About 400 residential units set within two new 20-storey towers will rise on either side, overlooking the Grand River.
Joel Doherty, director of development for HIP, says his team strongly believes in the Galt core, and sees the project as transformational, not only for Galt, but Cambridge as a whole.
"We have a grand vision for the core that will bring high tech jobs, new high-end residences and a fantastic new destination that we expect will draw people from well beyond Cambridge to enjoy the tastes and sounds in restaurants and cafes as the square comes to life with activity, local entertainment, arts and culture," he says.
Once the project is completed in phases from 2018 to 2020, the area will not only light up with authentic gas lanterns, but bright minds, as well.
A key innovation of the project is a tech hub at 96 Grand. The 50,000 square foot former foundry, built in 1898, once manufactured boiler bodies for World War II ships until Tiger Brand Knitting Company, Canada's largest t-shirt and sweatshirt manufacturer, owned and operated the site from 1978 to 2006.
Now, the lights that once dimmed on the local manufacturing industry back in 2006 are expected to shine once again, perhaps brighter, as the building transforms into Grand Innovations, a space for advanced manufacturing enterprises—a place that will, according to James Goodram, director of economic development for the City of Cambridge, propel the City to become a significant player in the Toronto to Waterloo innovation corridor.
Along with private resources, Grand Innovations will partner with Conestoga College of Technology and Advanced Learning to deliver a full-service research and development centre. Conestoga Applied Research and Technology Hub will develop new solutions and products to improve e-waste recycling and cybersecurity that can be commercialized into new enterprises.
Greg Dalton, managing partner for Grand Innovations, says there is also a not-for-profit component. Tim Ellis, former chief executive officer of the Waterloo Accelerator Centre, will spearhead an environment for early stage entrepreneurs to get a start, eventually forming a business factory.
"The intention is to have, at any one time, up to 100 companies in the mill, from early start-up stage to early graduating stage," he says. "We're also going to add a synergy centre where we'll bring in professional services from outside—legal, accounting, sales—to provide support services for these companies."
Dalton will oversee the design of the exposed brick, post-and-beam site, along with prospective tenants coming in, so needs are met. Plans entail 45,000 square feet of office space, 12,000 of which Conestoga College has already put dibs on. Retail and restaurants will fill another 7,500 square feet, with 127 parking spots. The Grand River Transit will offer service to the area, along with express buses back and forth between Kitchener-Waterloo and Cambridge. Occupants will also have access to the new Ion light rail transit system, which will, in phase two, extend down into Cambridge as well.
"We're seeing immediate interest expressed by the local start-up community," he adds. "Cambridge hasn't had a centre of this nature; residents who wanted to pursue this particular avenue have been forced into Kitchener-Waterloo, into Communitech Hub or the Accelerator Centre."
From this venture, more than 400 permanent and students jobs are expected to be created, influencing the real estate all around the downtown core and the broader Cambridge area.
"When these companies are ready to move out of the space and find their own space elsewhere, that is where the city is going to come in to work with them and help keep them within the city and Waterloo region," adds Goodram, who sees the hub as a real catalyst" for growth.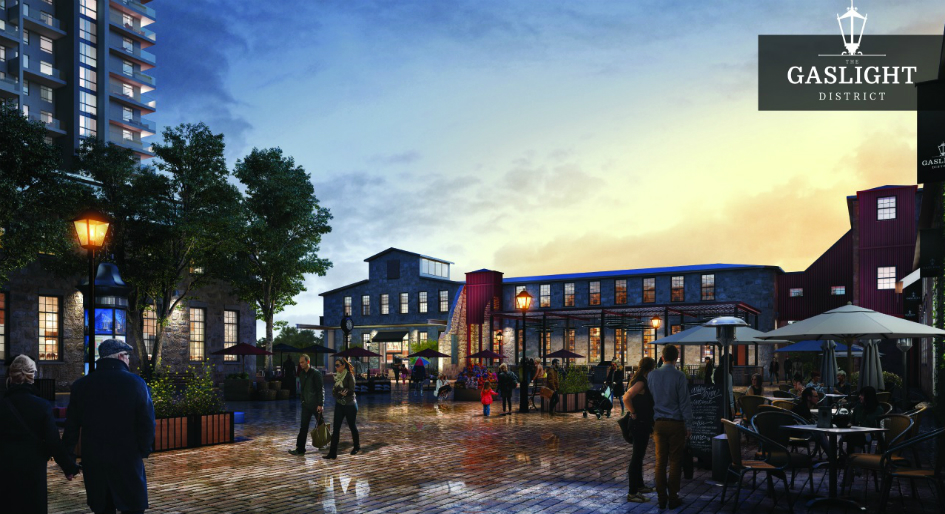 Meanwhile, the one to two bedroom residential units could bring more than 650 new people to live in the downtown core, from baby boomers to younger generations.
"You mix that with new restaurants and shops that are being added to the civic square component, and it's going to be a really cool, hip place to spend time," says Goodram. "We're really fortunate to have HIP Developments come to this community and invest in it, not just to build a residential tower or a commercial building, but to come in with a vision for a massive development that mixes everything together."
Overall, the development bodes well with the City's Back to the River initiative designed to enhance the city's waterfront areas along the Grand River. At one time, this river was an essential part of the surrounding communities—before they spread outward, away from the water.
The Gaslight District will bring more people into the downtown core and give them access to river amenities that the city has invested in: walking trails, a new pedestrian bridge and the new digital library being built in the old post office on the river.
"Cambridge is a river city and has one of the most beautiful urban landscapes in Ontario that is kind of unknown to people," says Mayor Craig. "Attracting people and having a theme around Back to the River is important in terms of bringing people back to their roots and to the beauty of what the city is all about. We're a city of three former communities—Galt, Preston and Hespeler—the river connects us all."