Sometime this fall, a former Blackberry manufacturing plant turned light-infused office building will open its doors to companies in a Waterloo, Ontario area branded as the Idea Quarter, a mixed-use technology cluster near the University of Waterloo and the region's light rail transit system.
When Spear Street Capital set out to revitalize that area, it set its sights on redeveloping the 215,000-square-foot building at 451 Phillip Street, a space that RIM had acquired in the late 1990s. There was an opportunity to rebirth a community and free up space for companies who could not previously find room in the neighbourhood.
"Blackberry had expanded quickly and used a lot of space, and a lot of amenity space was eaten up in the process, like restaurants, coffee shops, gyms and daycares," says Karl Innanen, managing director of the Waterloo Region office of Collier's International, and broker handling the leasing of the property. "Spear Street Capital wanted to bring that amenity-rich culture back to the area."
With the renovation almost complete, final steps include completing a healthy grab-and-go juice bar and a coffee roaster, while finalizing construction before tenants move in. A sit-down restaurant and fitness centre are also on the to-do list. Colliers isn't able to announce its first tenant, but says its currently working with several.
What sets the building apart from other offices in the area are a few key features. Architectural firm Raw Design cut a 15,000-square-foot open-air interior courtyard right in the middle of the building, with a diagonal walkway running through. This feature allows for fresh air and an abundance of natural light, which also comes from 24 skylights and expanded windows. The previous windows had been very small compared to the 16- to 22-foot-high ceilings.
"You really have to be conscious of people's access to natural light in these very large rectangular buildings," says Innanen who witnessed the industrial-to-office transformation.
The LEED-certified building also features a grand staircase that leads to a 20,000-square-foot mezzanine with a private rooftop patio. There is also ample free parking for tenants and employees, in addition to amenity space.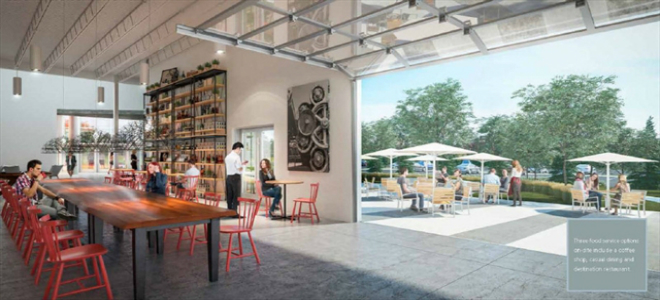 Overall, the space was designed with wellbeing in mind, along with the needs of the tech sector. A glass and steel single floor plate flow throughout the structure for flexible configurations, while the layout is conducive to idea sharing, with open workspaces that trigger informal discussions.
"This building was created so that would happen in the hallways, common areas, the courtyard and at the entrances," notes Innanen. "The whole building is making connections to create catalysts for people to have those impromptu and informal meetings and discussions and create collisions."
Factory Square's proximity to the University of Waterloo is also key. The university has the largest co-op program in the world, with 20,000 active students per year.
"A lot of companies want to locate close to University of Waterloo, to access human capital and all those smart kids," he adds.
Financial companies and engineering firms are also interested in modern space like Factory Square.
"Very mature businesses are looking for more creative input from their employees, so the space allows that to happen more freely," Innanen notes. "We found that what's working for the tech sector has other offices saying 'that might work for us.' Everyone is more interested in attracting and retaining really good employees, who are healthy and happy in their space—this building reflects that."
Since the former Blackberry buildings around Phillip Street and Columbia Street have become available, there has been a lot of demand. Innanen believes there is going to be a "window of time" where companies can find this strategically located space near the school, but after that, the window will close for a long time.
Demand within the Idea Quarter and surrounding tech hub is coming from local companies, and companies that are Ontario-based, national and international, are investing in this tech-sector-heavy area for good reason.
New research from the Brookfield Institute for Innovation + Entrepreneurship (BII+E) at Ryerson University reveals that Canada's tech sector is a significant economic driver. In 2015, it was directly responsible for $117 billion or 7.1 per cent of Canada's economic output—greater than that of the finance and insurance industry. The State of Canada's Tech Sector, 2016, report also states that the sector employed 864,000 Canadians, which is 5.6 per cent of Canada's total employment. As for the number of businesses, the count is 71,000, which is 6.1 per cent of all businesses in the country.
And the Kitchener-Cambridge-Waterloo region has one of the highest tech concentrations in Canada behind Toronto and Montreal. Factory Square is adding support beams to the fast-paced future, providing room, but more of a community, for this growing employment base.
"I've been in the business for about 25 years," says Innanen. "You don't see that very often — this adaptive reuse that is going to completely change the face of that community. It's exciting for the street, the companies there, the university and all the stakeholders in Waterloo, and probably for Ontario; what happens there is really going to help out the economy in a lot of different ways."
Rebecca Melnyk is online editor of Canadian Property Management @rebeccachirp