When it comes to condo matting, a lot goes on beneath your feet. From material selection to cutting-edge fabrication, and visual design to sustainable manufacturing, there are a number of elements that must come together to create surface coverings that are safe, durable, and apt to grab attention.
"A lot of people are surprised when they find out just how much science and technology goes into creating an effective matting system," says Michael Chisholm, with Vifloor Canada Ltd. "It's our job as matting specialists to understand how all those elements come together and what works best for our customers' spaces."
Protection by the numbers
Up to 20lbs of dirt can be tracked into a facility in just 20 days. Moreover, a majority of the soil entering the facility is carried in by occupants' shoes. Fortunately, an effective matting system can trap 85% of that dirt within the first 15 feet of an entrance.
"And given that it can cost upwards of $600 to remove just 1 lb of dirt, it makes sense to spend just a fraction of that money on matting that will keep the soil from entering in the first place," adds Chisolm.
Laying a plan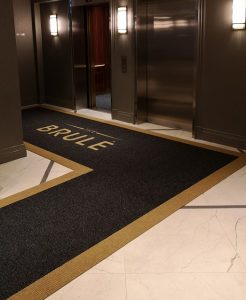 It takes an eye for style and pinpoint accuracy to design an effective matting system.
"No two floor plans are the same," says Chisholm. "Each space has various dimensions, curves, and other architectural features that will factor in the size and shape of your matting system."
As such, crafting an ideal matting system means dusting off floor plans, breaking out the measuring equipment, and bringing matting specialists and building stakeholders together to determine where matting is most needed and how it will complement the building's aesthetics.
"The design stage is critical, and it involves a mix of art and science to ensure the mat we install truly fits the environment," adds Chisholm.
With a matting system's design locked in, the next step is fabrication. Here, state-of-the-art machinery is used to cut matting materials systems in the exact sizes and dimensions required. Edges are then finished by cut bevelling or applying vinyl edging when necessary.
In the case of logo mats, branding elements are cut by computer-controlled blades, after which they are inlaid by hand and reinforced on the back for stability.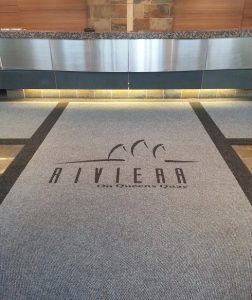 One of the main functions of matting is to prevent slips and falls by scraping and retaining moisture, dirt, and debris from incoming footwear.
"This is where fibre choice and manufacturing come in," says Chisholm. "For example, Vifloor prefers to create dense mats made with Asota-brand fibres that have been proven extremely effective at retaining and trapping water, dirt, and debris and holding it away from shoes, so it doesn't get picked up and tracked throughout a building."
Materials count
Good looks are one thing, but mats going into residential or commercial spaces must also be able to stand (or lay) up to harsh conditions. As such, there is value in understanding how different materials and manufacturing techniques can contribute to durability.
Vifloor, for example, uses needlepunch technique in which 26,000 needles entangle small course fibres together in an extremely dense, interlocking mat that never unravels. This non-woven approach not only makes the mats resilient to everyday wear and tear, but it allows the company to cut its mats into any size or shape.
Fibre type has a critical role of its own when creating effective matting. Vifloor, for example, uses Asota-brand, solution-dyed polypropylene fibres for matting that is anti-static, resistant to wear and tear, and resilient to cleaning chemicals, UV rays, and other damaging substances (e.g., coffee, copy machine toner, hydrochloric acid, rock salt, bleach, ice melt, etc.).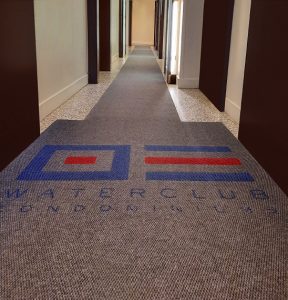 The demand for greener and more hygienic environments is on the rise. In response, multifamily stakeholders constantly search for low-emitting components and materials to reduce their environmental footprint, create healthier environments, or achieve LEED certification goals.
The good news, says Chisholm is that adopting greener matting materials, production techniques, and cleaning methods can go a long way towards meeting one's sustainability goals: "As members of Canada Green Building Council, our long-time goal has been to match clients with matting that contributes to their ESG [environment, social, governance] goals, and can be easily reclaimed and diverted from landfills at the end of their life."
It takes a mix of art, science, mathematics, and experience to create an effective matting system. The good news is there are specialists to guide multifamily teams through the process and bring all these critical pieces together.
"Our job is to blend all these considerations into a final product that gives the customer something that's not only going to look amazing, but protects their asset, occupants, and visitors," says Chisholm, noting, "It's this in-depth approach, extensive industry experience, and the proven quality of our matting that keeps many of our customers coming back over our 25 years of business."
Vifloor is a Canada-wide specialist in commercial matting and flooring. It also offers bespoke designs and custom area rugs, and broadloom for projects of all shapes and sizes. For more, visit www.vifloor.com.