Three Canadian public art installations in Vancouver, Edmonton and Toronto have won 2021 CODAawards. The international art and design competition recognizes outstanding projects that integrate commissioned art into interior, architectural, or public spaces.
This year, Jill Anholt Studio won in the transportation category and Marc Fornes/THEVERYMANY won in the institutional category. Dialogue 39 won in the People's Choice category.
Transportation: Sea Change (North Vancouver, BC) by Jill Anholt Studio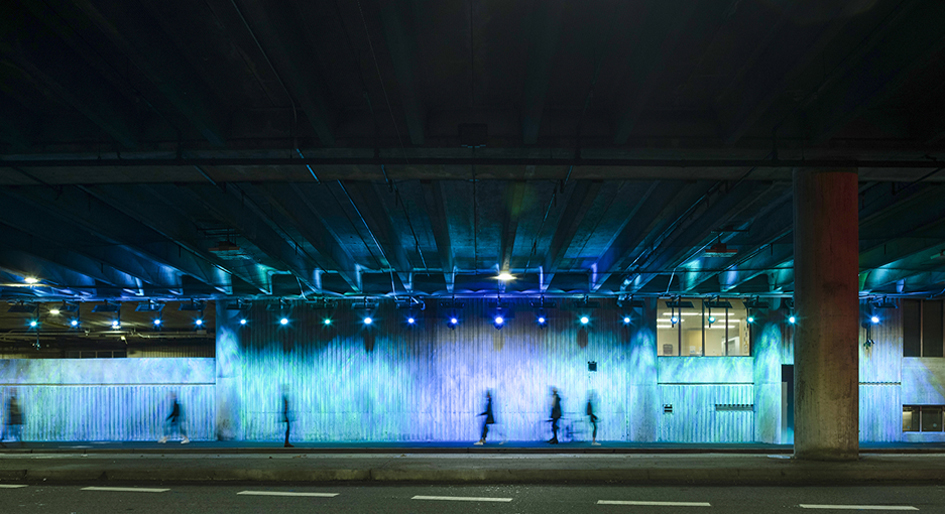 Sea Change is an interactive light-based artwork that activates the pedestrian experience within a bus exchange transit tunnel in North Vancouver. The work celebrates the area's connection to its waterfront by marking the location of the historic tideline within the site and by serving as a symbolic reminder of the importance of water to humanity.
Transforming a dark and menacing underpass into a dynamic and engaging experience for viewers, the artwork mimics the ephemeral and magical feeling of being immersed within a body of water as if light rays were penetrating an undersea world through water ripples above the tunnel.
Institutional: Agent Crystalline (Edmonton, AB) by Marc Fornes / THEVERYMANY
A streaking beacon resting where the sky meets the earth, Agent Crystalline perches in front of the Northwest Campus building of the Edmonton Police Center. Standing at attention to Edmonton's Police Service, Agent Crystalline emphasizes a sense of vigilance and acuity through its graphic associations.
The work speaks assertively in the language of traffic. In the lexicon of traffic, hues that demand awareness are vital. The vibrant array strikes a balance between safety orange and a sweeter tangerine. Adopting the colouring of the construction offers the structure the ethos of protection and productivity; as well as a bold timeless feeling.
People's Choice: YU Seafood Yorkdale Mall (Toronto, ON) by Dialogue 38
Yu Seafood restaurant is an established refined dining brand at the newly opened location in Canada's premier luxury shopping centre. To appeal to the cultural diversity of the location, the design elements reflect a marriage of traditional and modern aesthetics. The space incorporates natural finishes to create a warm and inviting atmosphere.