Canadian engineers are among ASHRAE outstanding achievers recognized at the Society's 2020 winter conference in Orlando, Florida, earlier this week.
Nicolas Lemire, president of Montreal-based Pageau Morel et associés inc., was one of 33 members worldwide elevated to ASHRAE Fellow standing for their contributions to the built environment and actions through research, engineering design, teaching, professional outreach and/or mentoring to advance heating, ventilation, air conditioning and refrigeration (HVAC&R). Lemire, who also holds an ASHRAE Healthcare Facility Design Professional (HFDP) designation, is the only Canadian in the new slate of Fellows, which includes honourees from Brazil, Columbia, India, Italy, Lebanon, Romania, Serbia, Sri Lanka and the United States.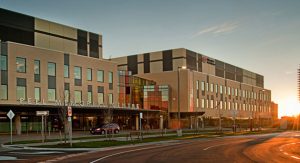 Kurt Monteiro and Kevin Sharples were named winners of the ASHRAE Technology Award in the new health care facilities category for application of innovative building design at Peel Memorial Centre in Brampton, Ontario. Their work on the now three-year-old component of the William Osler Health System previously earned the Technology Award from the ASHRAE Toronto chapter, putting them in contention for the international competition. Peel Memorial Centre accommodates urgent care, day surgery, out-patient, diagnostic and mental health services, along with community space.
The late Richard Perry, who served as ASHRAE president in 1983-84, was named to the ASHRAE Hall of Fame. This rare honour is conferred for the "milestone" influences of historical contributors to the Society and HVAC&R disciplines. A World War Two fighter pilot who immigrated to Canada from New Zealand in the early 1950s, Perry earned a mechanical engineering degree and launched his professional career in Vancouver.
He was founder/president of Perry Engineering and a longstanding member of  the ASHRAE Vancouver chapter. Through ASHRAE board and committee work, he was a key supporter of the forerunners to widely referenced standards such as ASHRAE 90.1 for energy management and ASHRAE 62.1 for indoor air quality, as well as an early and strategically important proponent of energy efficiency. Perry died in 2013 at age 90.
"We congratulate each of ASHRAE's Honours and Awards recipients for their leadership in advancing the future of our industry and our Society," affirmed Darryl Boyce, ASHRAE president for 2019-20.