A new six-storey market residential building on the Cambie Street Corridor has been approved by the City of Vancouver.
Designed by Arno Matis Architecture, the project named Slate Block (4238-4338 Cambie Street) features 68 strata condominium units, including six townhouses on the laneway.
The architectural vision behind the Slate Block is a structure formed by stacked layers "that shift and slide like a fine-grained metamorphic rock" to help accommodate and preserve several large, significant trees on the property.
The project is inspired by the layered volcanic rocks in and around the nearby Queen Elizabeth Park area. The expression of the project is forward-looking, utilizing contemporary geometries, materials and building systems. It is this dialectic interplay of historic reference and optimism in the future that create a powerful tension within the architectural expression.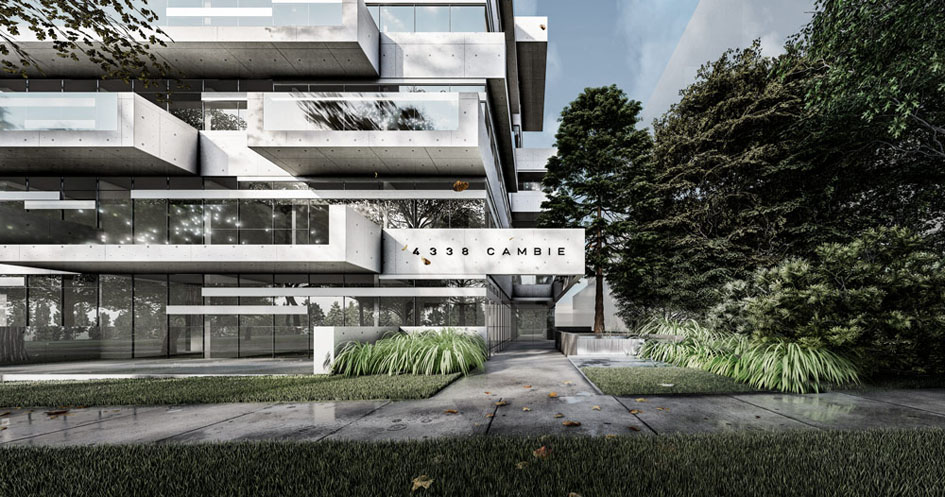 The focus on the retention of trees has shaped the building; the massing is pushed and pulled around the foliage to create a residual form that pays homage to the neighbourhood's unique greenery. Much like metamorphic rock layers that build up a topography over time, the massing of the proposal is divided into a series of clearly defined horizontal layers, sliding to accommodate historic trees and protruding to create residential decks.
These horizontal components are distinctly articulated through the use of varying materials and detailing. Proposed as glass, stone and concrete, the exterior envelope enhances the scale and proportion of the composition. Material selection reflects a contemporary 'west coast' design aesthetic.
The project will be built to Low Emissions standard, to follow Vancouver's Green Building Policy for rezoning.