Vancouver apartment building
Canadian Apartment Magazine
GWL Realty Advisors formally broke ground on a 21-storey market rental tower at 1500 Robson Street in Vancouver's West End. When complete, the tower will add 128 purpose-built rental units to the neighbourhood lacking in vacant apartments.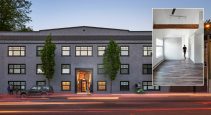 Canadian Apartment Magazine
Haeccity Studio Architecture, a Vancouver-based practice, recently completed a major revitalization of a three-storey, wood-framed building comprised of 19 rental units.