September 2018
CondoBusiness
National home sales fell 0.4 per cent between August and September 2018, according to recent statistics from the Canadian Real Estate Association (CREA).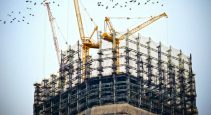 CondoBusiness
In September 2018, the trend in housing starts was 207,768 units, down from 213, 966 units in August 2018, reports Canada Mortgage and Housing Corporation.
CondoBusiness
According to the Toronto Real Estate Board (TREB), there were a total of 6,455 home sales in September 2018, an increase of 1.9 per cent year-over-year.