Royal LePage House Price Survey
CondoBusiness
Housing prices are forecasted to remain steady through 2020, according to Royal Lepage's newly released Housing Price Survey and Market Forecast.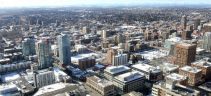 Canadian Apartment Magazine
According to the latest Royal LePage House Price Survey, low rental vacancy rates and rising rental costs in Calgary are contributing to a modest increase in condominium ownership.
CondoBusiness
Home prices saw modest annual gains in many regions across Canada in Q3-2018, according to the Royal LePage House Price Survey and Market Survey Forecast.