Paris
REMI Network
Caps now apply on new residential leases and lease renewals, dictating that rents cannot exceed the reference rate by more than 20 per cent nor undercut it by more than 30 per cent.
REMI Network
Oxford Properties Group has acquired its second Paris office building, a 235,000-square-foot tower at 92 Avenue de France in the Rive-Gauche submarket. This purchase quickly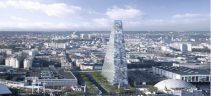 REMI Network
Paris, a city beloved for its preserved architecture and 19th century skyline, has fiercely opposed the construction of a 180-metre pyramidal skyscraper called Tour Triangle.